A Chomaraigh Aoibhinn Ó lyrics
Solas ft. Karan Casey
Irish Lyrics
Mo bheannacht óm' chroí
Dod' thir 's dod' shléibhte
A chomaraigh aoibhinn ó
Is dod' mhuintir shuairc
Ar dual dóibh féile
A chomaraigh aoibhinn ó
Do shrutháin gheala
'S do choillte craobhach
Do ghleannta meala
'S do bhánta léire
Ó grá mo chroí
Iad siúd le chéile
A chomaraigh aoibhinn ó
Is dathúil breá
Do chruacha scéimchruth
A chomaraigh aoibhinn ó
Nuair a lasaid suas
Le hamharc gréine
A chomaraigh aoibhinn ó
Na faillte 's leacain
Ar gach taobh diot
Mar bhrata sróil
Le seolta gleásta
Nuair a scaipeann an drúcht
Anuas ón spéir ort
A chomaraigh aoibhinn ó
Do bhíos thar sáile
Seal i gcéin uait
A chomaraigh aoibhinn ó
I ndúthaigh fáin
Ag déanamh saoithair
A chomaraigh aoibhinn ó
Ach b'obair tháir liom
Cnuasach gréithre
I bhfad óm' ait
Fé scáil do shléibhte
Is chas mé arís ort
A phlúr na nDéise
A chomaraigh aoibhinn ó
English Lyrics
My heartfelt blessings
On your valleys and mountains
Sweet Comeragh
And on your cheeful people
So naturally kind
Sweet Comeragh
On your shining streams
And your leafy woodlands
Your honeyed slopes
And your gleaming meadows
My heart fills with love
For all of them surely
Sweet Comeragh
Your rugged peaks
Are a handsome sight
Sweet Comeragh
As the rising sun
Sets them aflame
Sweet Comeragh
Cliffs and steep slopes
In every direction
Like a satin weave
From a magic loom
As the dew falls
From the heavens high
Sweet Comeragh
I was a while away
From your beauty
Sweet Comeragh
Slaving so hard
In a foreign land
Sweet Comeragh
Base work it was
Just making a living
Far from my home
'Neath the shade of your mountains
So I came back to you
The flower of the Déise
Sweet Comeragh
Song Details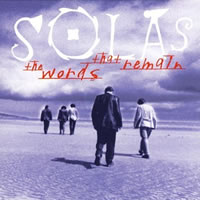 Composer: Maurus Ó Faoláin (1853-1931) - a Cistercian priest born in Kilrossanty, Co Waterford. In 1908, he was elected Abbot of Mount Mellery and remained there until his death. He collected poetry as well as composing much of his own.
Brief: The song is about the Comeragh Mountains in County Waterford and is considered by many to be the "Anthem of the Comeraghs". The author describes his love of his hometown - the valleys and mountains of Sweet Comeragh. He has to leave for a while to make a living but becomes homesick and finds his way home again to his beloved Comeragh.
Category: Folk Song
Karan Casey: Irish folk singer born in Ballyduff Lower, Kilmeaden, County Waterford, Ireland. She is a former member of the Irish band Solas (Irish word for 'light') - formed in 1996 in Philadelphia, Pennsylvania, US. They played traditional Irish music with an original line-up consisting of members: Séamus Egan, Winifred Horan, John Doyle, John Williams and Karan Casey who left the band in 1999 to pursue a solo career.
Solas Album: A Chomaraigh Aoibhinn Ó is featured on their Celtic album - The Words That Remain (pictured) released Sept 15, 1998.