About Bells Irish Lyrics
A love of country and song...
I am not Irish, but my partner of many decades is. Throughout that time, I have gained a wealth of information about an amazing country that has endured a sometimes tragic history, and has overcome many obstacles in it's bid for freedom.

The one thing that stands out the most is, no matter the situation, when the Irish get together the night always ends in song... mostly Irish Folk Songs which are steeped in history and the essence of everything that is Irish. Throughout the ages, it seems a song is written about any event - wars and rebellions, weddings, celebrations, drunken revelries, work and everyday life in general.

Irish Folklore which tells us about the traditional beliefs, myths, tales and practices of the Irish people is more alive today than it ever was. The second folk revival in the 1960's and 70's saw a major upheaval in the popularity of Irish Folk Music. In the 60's it was The Chieftans, The Clancy Brothers & Tommy Makem, The Wolfe Tones, Paddy Reilly, The Irish Rovers, Jim McCann and Sweeny's Men, The Dubliners,. In the 70's, it was Planxty, The Fureys & Davey Arthur, The Bothy Band, Foster & Allen, and Clannad followed by countless others including Sinéad O'Connor, Van Morrison, Hothouse Flowers, The Pogues, Enya, De Dannan, Altan, Dervish, Patrick Street, Mary Black, Sharon Shannon, Daniel O'Donnell, The Cranberries, The Corrs and the list goes on... and on.

The 21st century has seen Irish Folk Music take the world by storm with the advent of big production shows and the extravaganza that takes Irish Folk music to a new level. Celtic Woman, The Irish Tenors, The High Kings, Celtic Thunder are just a few of the world's favourite Irish 'big production' bands.

Much of my life has centred around music and teaching, and although I am of Italian descent, I am always drawn to Irish Music especially Irish Folk Songs. The instruments used in Irish folk culture are amazing... they encapture every emotion from 'pulling at your heart strings' to a toe-tapping extravaganza. As a guitarist and would-be percussionist, I am always drawn to the rhythmic sounds created by Irish Music. Celtic Woman has an amazing percussion and rhythm section which is awe inspiring especially if you are sitting three rows from the front. The Corrs are another outstanding Irish band that have created their own brand of modern music with an Irish flavour.

If you listen to Irish people speak, their intonation is lilting in nature... they are almost singing. Music and song comes naturally to them.

I have a music site which has a section on Irish Folk Songs and the many hours spent charting these amazing tunes inspired me to build this site dedicated to Irish Lyrics. Some of the lyrics on this site can be found at Bellandcomusic.com with chords and charts for guitarists and musicians alike wanting to play these tunes. While putting these lyrics together, I am learning more and more about Ireland and its people... and I can't get enough of it!

I have used traditional lyrics wherever possible, and because many songs are so old, everyone adds their own interpretation, and as a result there are several different versions, from slightly altered lyrics to drastic alterations. To get around this I have featured artists to accompany the lyrics and in most cases, a video so that you can listen to and even sing along if the mood takes you.

I have attempted to present an insight into each song with a little bit about each song along with references where words are used that may seem foreign. If you feel we can add some more information or if you feel the information is not accurate, please contact me... your input is most welcome. I hope that anyone visiting this site will enjoy it just as much as I enjoy building it.

I love Ireland and I love, love, love the Irish... go raibh maith agat.

Janice Bellosguardo
Dedication - Marie Forde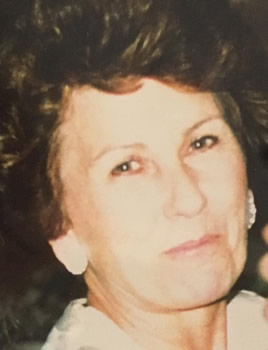 It is with deepest sorrow that I announce my greatest influence in the 'love of all things Irish' has passed away peacefully in the arms of her loving family.
She was a Belfast Belle that loved her homeland and held on to its fine traditions in every aspect of her life. Her love of history taught me appreciation of all things; her strength of character taught me that anything is possible; her unconditional love taught me the importance of forgiveness, and her love of Irish music inspired me to build this site.
'When Irish Eyes Are Smiling' was so relevant to her as her eyes sparkled when she smiled, and as the song says - her sparkling eyes showed the love in her heart and it even made sunshine more bright...
You are forever in our hearts beautiful lady and your love of homeland, eternal.