A Little Bit of Heaven lyrics
John Gary
'Tis a dear old land of leprechauns and of wond'rous wishing wells
And nowhere else on God's green earth have they such lakes and dells
No wonder that the angels loved it's shamrock bordered shore
'Tis a little bit of heaven, and I love it more and more
I love it more and more...
Have you ever heard the story of how Ireland got it's name?
I'll tell you so you'll understand from whence old Ireland came
No wonder that we're proud of that dear land across the sea
For here's the way me dear old mother told the tale to me
Sure, a little bit of heaven fell from out the sky one day
And it nestled in the ocean in a spot so far away
And when the angels found it, sure it looked so sweet and fair
They said suppose we leave it, for it looks so peaceful there
So they sprinkled it with star dust just to make the shamrocks grow
'Tis the only place you'll find them no matter where you go
Then they dotted it with silver, to make it's lakes so grand
And when they had it finished sure they called it Ireland...
Song Details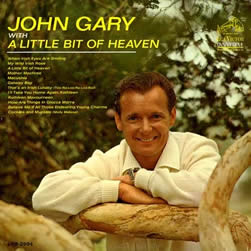 Music: Ernest R. Ball
Lyrics: J. Keirn Brennan
Date: 1914
Brief: The song is about Ireland and its beauty - with lyrics that describe the lush green hills, the blue skies, and the sweet smell of flowers in the air. It's a sentimental song that expresses a love for the country and its people.
Category: Folk Song
Covers: John McCormack, Charles Harrison, Kate Smith, Shannon Quartet
Album: A Little Bit of Heaven (pictured)
John Gary: Born John Gary Strader on Nov 29, 1932 in Watertown, New York, US. He was an American singer, recording artist, television host, and musical stage performer. He died in Dallas Texas on Jan 4, 1998 from prostate cancer.