Against the Wind lyrics
Moya Brennan
A wall strong in numbers
Burns the midnight candle
The brave arm in arm
Stands before them now
Up against the wind
Old ways up against the wind
The game is in their hands
Calling out the colour
Togetherness, their courage
Recognize the power
Make a stand before them
Old ways follows the beaten track
Against the wind
Against the wind
[Instrumental]
Defying their leaders
Holding out for free will
The strong dare to echo
Nothing can stop
Nothing can stop us now
Up against the wind
Old ways up against the wind
The game is in your hands
Reach for every moment
In rising generations
Capturing the change
Make a stand before them
Old ways follows the beaten track
Against the wind...
Song Details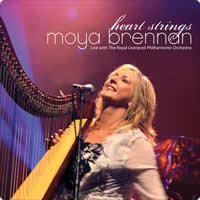 Writers: Moya Brennan - Irish folk singer, songwriter, harpist and philanthropist from County Dublin, Ireland and Tim Jarvis - explorer, adventurer, author and documentary filmmaker.
Brief: A song about perseverance and determination in the face of adversity. The lyrics suggest that even when life gets tough, we must keep moving forward and not give up on our dreams. The wind is used as a metaphor for the challenges and obstacles we face in life, and the song encourages us to keep pushing against it.
The song was Moya's first solo single taken from her album Maire which was released in 1992. It also appears on her live album, Oro - A Live Session released in 2005 and on her Heart Strings album released in 2008 (pictured).
Category: New-age, contemporary, Celtic
Moya Brennan: Born Máire Ní Bhraonáin (Maire Brennan) on August 4, 1952. She is a foundation member of the famous Irish family band - Clannad, and is the older sister of Enya and Bridin Brennan.