Ballinderry lyrics
The Cottars
'Tis pretty to be in Ballinderry
Pretty to be in Aghalee
'Tis prettier to be on bonny Ram's Island
Sittin' forever beneath the tree
O-chone, O-chone... O-chone, O-chone
For often I sailed to bonny Ram's Island
Arm in arm with Phelim my diamond
And he would whistle and I would sing
And we would make the whole island ring
O-chone, O-chone... O-chone, O-chone
"I'm going," he said "from bonny Ram's Island
Out and across the deep blue sea
And if in your heart you love me Mary
Open your arms at last to me"
O-chone, O-chone... O-chone, O-chone
[Instrumental]
'Twas pretty to be in Ballinderry
Now it's sad as sad can be
For the ship that sailed with Phelim my diamond
Is lost forever beneath the sea
O-chone, O-chone... O-chone, O-chone
O-chone, O-chone... O-chone, O-chone
Song Details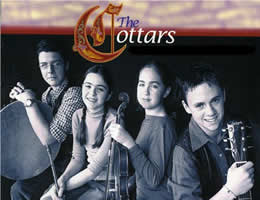 Author: Unknown - first published by Edward Bunting in 1840.
Brief: The singer recalls the joys of living in Balinderry, a beautiful district on the eastern shore of Lough Neagh, and spending time with Phelim, her diamond. Phelim must leave to travel the seas where he dies leaving her sad and lonely - no longer happy to be in Ballinderry.
Category: Folk Song.
References:
Ballinderry - a small civil and ecclesiastical parish on both sides of the County Londonderry / County Tyrone border in Northern Ireland lying on the western shores of Lough Neagh.
Aghalee - a village, townland and civil parish in County Antrim, Northern Ireland.
Ram's Island - located approximately one mile offshore from Lennymore Bay and Sandy Bay on the eastern shore of Lough Neagh, Northern Ireland.
Ochone - a chant associated with 'keening' - a form of vocal lament associated with mourning that is traditional in Ireland and Scotland.
The Cottars: A Canadian Celtic Group formed in 2000 originating from Cape Breton Island. The original members consisted of 2 sets of multi-instrumentalist, singing, stepdancing brother-sister teens - Ciarán & Fiona MacGillivray and Rosie & Jimmy MacKenzie... read more
Covers: The Clancy Brothers / Tommy Makem, Mary O'Hara, Honor Finnegan, Blackthorn.
Album: Made in Cape Breton (pictured)