Bright Morning Star lyrics
Cara Dillon
Bright morning star a-rising
Bright morning star a-rising
Bright morning star a-rising
Day is breaking in my soul

They are down in the valley praying
They are down in the valley praying
They are down in the valley praying
Day is breaking in my soul
[Instrumental]
Oh where are our dear fathers?
Oh where are our dear fathers?
Oh where are our dear fathers?
Day is breaking in my soul
They have gone to heaven shouting
They have gone to heaven shouting
They have gone to heaven shouting
Day is breaking in my soul
Bright morning stars are rising
Bright morning stars are rising
Bright morning stars are rising
Day is breaking in my soul
Song Details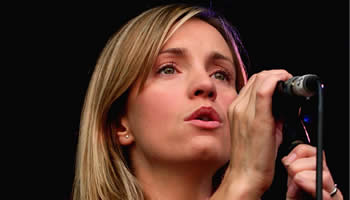 Author: unknown - earliest known date of circulation ~ 1957 around the South Eastern States of America.
Titles: Bright Morning Stars, Bright Morning Stars are Rising
Genre: gospel, country, folk
Cara Dillon: Born Cara Elizabeth Dillon on July 21, 1975, in Dungiven, County Londonderry, Northern Ireland. She is an Irish folk singer, who began her career in 1995 with the band Equation, and in 2001 released her first self-titled solo album. Throughout her journey, Cara has won numerous awards and accolades as well as releasing a number of albums.
Covers: Emmylou Harris, The Wailin' Jennys, Walela, Gillian Welch, Oysterband, Abigail Washburn...
Album: A Thousand Hearts (May 16, 2014)
Back to Irish Lyrics - B
Back To Top