Bright Morning Star lyrics
Cara Dillon
Bright morning star a-rising
Bright morning star a-rising
Bright morning star a-rising
Day is breaking in my soul

They are down in the valley praying
They are down in the valley praying
They are down in the valley praying
Day is breaking in my soul
[Instrumental]
Oh where are our dear fathers?
Oh where are our dear fathers?
Oh where are our dear fathers?
Day is breaking in my soul
They have gone to heaven shouting
They have gone to heaven shouting
They have gone to heaven shouting
Day is breaking in my soul
Bright morning stars are rising
Bright morning stars are rising
Bright morning stars are rising
Day is breaking in my soul
Song Details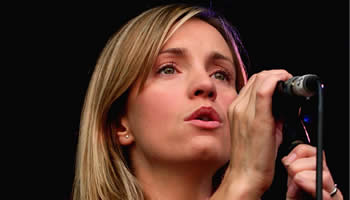 Bright Morning Star is a traditional Appalachian spiritual, the earliest recording of which dates back to 1937. It has been sung by numerous folk artists, but was popularized in the folk revivals of the 1960s and 70s.
The song is a simple, repetitive melody with lyrics that focus on the image of a bright morning star. The star is often seen as a symbol of hope and salvation, and the song's message is one of comfort and reassurance.
The singer asks "Where are our dear fathers?" and "Where are our dear mothers?" The answer, in the form of the bright morning star, is that they are "down in the valley praying" and "gone to heaven shouting." The singer then goes on to describe the star's beauty and its ability to bring light and hope to the world.
The song ends with the singer proclaiming that the bright morning star is "rising in my soul." This suggests that the song is not just about the physical star, but also about the spiritual light that it represents. The song is a reminder that even in dark times, there is always hope and that the light of salvation will always shine through.
Titles: Bright Morning Stars, Bright Morning Stars are Rising
Genre: gospel, country, folk
Cara Dillon: Born Cara Elizabeth Dillon on July 21, 1975, in Dungiven, County Londonderry, Northern Ireland. She is an Irish folk singer, who began her career in 1995 with the band Equation, and in 2001 released her first self-titled solo album. Throughout her journey, Cara has won numerous awards and accolades as well as releasing a number of albums.
Covers: Emmylou Harris, The Wailin' Jennys, Walela, Gillian Welch, Oysterband, Abigail Washburn...
Album: A Thousand Hearts (May 16, 2014)