Carrigdhoun lyrics
Cherish The Ladies
On Carrigdhoun the heath is brown.
The sky is dark over Ardnalee,
And many's the stream comes rushing down
To swell the angry Owen na Buidhe.
The moaning blast goes sweeping past
Through many's the leafless tree,
And I'm alone, for he is gone,
My hawk has flown, ochone mo chroidhe.

The heath is green on Carrigdhoun.
Bright shines the sun over Ardnalee
The light green trees bent trembling down
To kiss the slumbering Owen na Buidhe.
That happy day 'twas but last May
It's like a dream to me,
When Donal swore, aye o'er and o'er,
We'd part no more a stór mo chroidhe.

Light April showers and bright May flowers
Will bring the summer back again,
But will they bring me back the hours
I spent with my brave Donal then?
Tis but a chance, he's gone to France
To wear the Fleur-de-Lis.
I'll follow you, my Donal Dhu,
For still I'm true to you mo chroidhe.
Song Details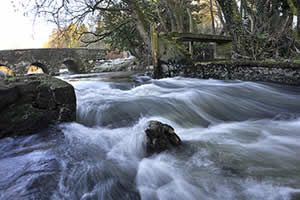 Author: Denny Lane (1818-1895) - an Irish businessman and nationalist from Cork who also wrote Irish nationalist and romantic lyrics. This was perhaps his most popular poem which was originally called Lament of the Irish Maiden.
Music: Traditional Irish Folk tune
Note: The same tune was used by Thomas Moore for his song Bendemeer's Stream, and by Percy French for his song The Mountains of Mourne.
Brief:
Carrigdhoun is a political song telling of the flight from Ireland of Sarsfield's "Wild Geese" in 1691.The following is an excerpt from Wikipedia in relation to this:
The Flight of the Wild Geese was the departure of an Irish Jacobite army under the command of Patrick Sarsfield from Ireland to France, as agreed in the Treaty of Limerick on 3 October 1691, following the end of the Williamite War in Ireland. More broadly, the term "Wild Geese" is used in Irish history to refer to Irish soldiers who left to serve in continental European armies in the 16th, 17th and 18th centuries.
The song expresses the sorrow and nostalgia of the Irish exiles who had to leave their homeland and fight for foreign powers. It also praises the bravery and loyalty of Sarsfield and his men, who fought for the cause of James II against William of Orange. The song is named after a barony in County Cork, where Sarsfield is said to have been born.
References:
Owen na Buidhe - the River Owenabue - also spelled "Owenboy". It is a river in County Cork, Ireland. (Irish: Abhainn Buí, meaning "yellow river").
ochone mo chroidhe - alas my love.
mo chroidhe - my love.
Fleur-de-Lis - flower of the lily - a symbol commonly used in French heraldry ⚜
Category: Irish Folk Song
Covers: Mary O'Hara, The Davitts, Mary Doumany & Annalisa Kerrigan, Jimmy Crowley & Maírtín de Cógáin...
Album: The Back Door (June 29, 1992)