Carroll Ban lyrics
Janice Bellosguardo
Twas in the town of Wexford they sentenced him to die,
Twas in the town of Wexford they built a gallows high,
And there one sunny morning while beamed a pleasant dawn,
Upon that cursed gibbet they hung my Carroll Ban
O he was true and loyal, O he was proud and fair,
And only nineteen summers shone on his golden hair;
And when his gallant brothers had grasped the pike in hand,
Where the green flag streamed the fairest, he stood for his native land.
I saw him cross the heather with his bold company,
And from the rising hillside he waved his hand to me;
Then on my wild heart settled a load of woe and pain,
Mo bhron it's throbbing told me we'd never meet again.
He fought the Saxon foemen by Slaney's glancing wave,
But brutal strength o'erpowered the gallant and the brave;
And in the fight which followed, that day of misery,
Sore wounded he was taken my Carroll Ban mo chroi
O fhior ghear that ever I saw the dreadful sight,
His locks all damply hanging and his cheeks a deadly white.
What wonder if my ringlets would change from dark to grey,
Or if the blessed hand of God would take my life away.
The meadow path is lonely, and the hearth is cold and dim,
And the silent churchyard blossom blooms softly over him;
And my heart that's ever sobbing for the calm rest coming on,
With its weary pulse lies sleeping beside my Carroll Ban.
Song Details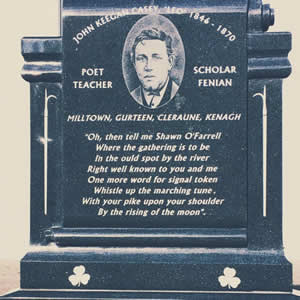 Writer: John Keegan Casey (Leo), (1846 - 70) - Irish poet, orator and republican. After the Fenian Rising in 1867, he was imprisoned for 8 months due to his involvement in the Fenian Brotherhood. He wrote many popular songs including 'The Rising of the Moon' and 'Maire My Girl.'
Died at age 23: St. Patrick's Day - already weakened physically from the treatment he received in prison, he sustained injuries falling from a cab in the centre of Dublin. He was buried in Glasnevin Cemetry where almost one hundred thousand mourners walked in the funeral procession.
Brief: The song is set around the 1798 Wexford Rebellion - one of the many uprisings in which the Irish fought against the oppression and injustice inflicted upon them by their more powerful English neighbours.
Carroll and his men were gallant and brave in battle, but the rebellion had failed and he was sentenced and hung in Wexford.
He had "fought the Saxon foemen by Slaney's glancing wave" and now "the silent churchyard blossom blooms softly over him."
References:
gibbet - gallows
pike - a sharp point or spike / the tip of a spear
Mo bhron - Irish for My Gift
Mo chroi - Irish for My Heart
Saxon - Engishman
foemen - enemy
Category: Irish Folk
Covers: Jim McCann, Glasnevin, Terry O'Neill