The Evelyn Marie lyrics
Goats Don't Shave
Was a cold winter's mornin' and the winds they did roar
When six fishermen made their way to the shore.
Said goodbye to their friends and their loved ones so dear
And they set out a fishin' from Burtonport pier.
They were proud as could be as they sailed out to sea
The captain and crew of the Evelyn Marie.
But as they returned with their fish stowed away
Through the treacherous waters of Donegal Bay.
There in the darkness six men came to grief
When off Rathlin O'Beirne their boat hit a reef.
She quickly broke in the cold cruel sea
And all hands went down with the Evelyn Marie.
Now the news quickly spread along the north west
The fleet and the lifeboats were doin' their best.
The winds they grew stronger, and the rain it did pour
Through the night people searched all along Malinmore.
But as daybreak shone out it was clear all could see
There would be no survivors on the Evelyn Marie.
Song Details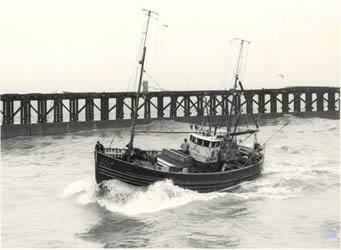 Writer: Unknown (any information on the author would be greatly appreciated)
Brief: A tribute to the 6 crewman of the trawler, The Evelyn Marie that sank in the trecherous waters of Donegal Bay in 1975.
Reference:
The following is an exerpt from an article on the website 'We Love Donegal' relating to the incident.
On the pier there is a commemorative stone honouring the crews of the Eveylyn Marie and the Carrig Una boats that were wrecked at Rathlin O'Beirne Island. The plaque reads:

"In memory of the young men from this community who lost their lives at Rathlin O'Beirne Island in the shipwreck of the Eveyln Marie 17th Jan 1975 and the Carraig Una 23rd Nov 1976. Evelyn Marie crew ~ Paddy Bonner, Hughie Gallagher, Johnny O'Donnell, Rolo Faughnan, Tom Ham, Joe O'Donnell. The Carriag Una crew ~ Ted Carbery, John Boyle, Michael Coyle, Doalty O'Donnell, Anthony McLaughlin.

"They are in the hands of God.
No torments shall ever touch them
Their going looked like a disaster
But they are at peace.
Let not their memory perish."
www.welovedonegal.com
Category: Folk
Covers: Goats Don't Shave (featured), Conal Gallen, Caroline Regan, Ann Mulqueen.
Album: Songs from Earth (March 10, 2014).