Farewell To Carlingford lyrics
The Dubliners
When I was young and in my prime
I could wander wild and free
There was always a thought within my mind
To follow the call of the sea
So I'll sing farewell to Carlingford,
And farewell to Greenore
And I'll think of you most day and night,
Until I return once more
Until I return once more
On all of the seven stormy seas
I have sailed before the mast
And the only thought within my mind
I said would be my last
So I'll sing farewell to Carlingford,
And farewell to Greenore
And I'll think of you most day and night,
Until I return once more
Until I return once more
Now, I had a girl called Mary Doyle
She lived in Greenore
And the foremost thought within her mind
Is to keep me safe on shore
So I'll sing farewell to Carlingford,
And farewell to Greenore
And I'll think of you most day and night,
Until I return once more
Until I return once more
Now, the landsman's life is all his own
He can go or he can stay
But when the sea gets in your blood
When call, you must obey
So I'll sing farewell to Carlingford,
And farewell to Greenore
And I'll think of you most day and night,
Until I return once more
Until I return once more... x2
Song Details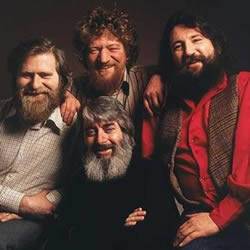 Writer: Tommy Makem
Brief: The story of a man whose main aim in life was to follow the call of the sea. His girlfriend, Mary Doyle hoped he would stay on dry land, but along with his love of freedom, the sea was in his blood and when called - he would obey!
References:
Carlingford - a coastal town and townland in northern County Louth, Ireland.
Greenore - a small town, townland and deep water port on Carlingford Lough in County Louth, Ireland.
Covers / Albums: The Clancy Brothers with Tommy Makem (Songs of Ireland And Beyond), Tommy Makem (Legendary Tommy Makem Collection), The Irish Rovers (The Irish Rovers' Gems), Blackthorn (The Ultimate St. Patrick's Day Collection), The Houghton Weavers (The Days), The Galway City Ramblers (The Mountains Of Mourne), Jim McCann (Live at the Skagen Festival), Molly Maguire (Jug of Joy) and many more.
Category: Irish Folk Song
Album: Songs of Irish Emigration.