The Flower Of Magherally lyrics
Women Of Celtic Song
One pleasant summer's morning when all the flowers were springing O
Nature was adorning and the wee birds sweetly singing O
I met my love near Banbridge Town, my charming blue-eyed Sally O
She's the queen of the County Down, the flower of Magherally O
With admiration I did gaze upon this blue-eyed maiden O
Adam wasn't half so much pleased when he met Eve in Eden O
Her skin was like the lily white that grows in yonder valley O
She's my queen and my heart's delight, the flower of Magherally O
Her yellow hair in ringlets clung, her shoes were Spanish leather O
Her bonnet with blue ribbons strung, her scarlet cap and feather O
Like Venus bright she did appear, my charming blue-eyed Sally O
She's the girl that I love so dear, the flower of Magherally O
I hope the day will surely come when we'll join hands together O
'Tis then I'll bring my darling home in spite of wind or weather O
And let them all say what they will and let them reel and rally O
I shall wed the girl I love, the flower of Magherally O
And let them all say what they will and let them reel and rally O
I shall wed the girl I love, the flower of Magherally O
Song Details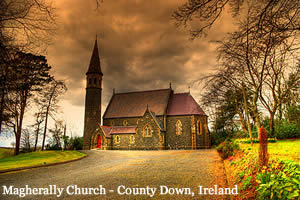 Music & Lyrics: Traditional
Brief: A love song about a man from Banbridge Town who meets a beautiful golden-haired, blue-eyed maiden and falls in love. He is Catholic and she is a Protestant, but his love has no bounds... he doesn't care what they say or do - he will marry the girl he loves.
Category: Folk Song.
References:
Banbridge - a town in County Down, Northern Ireland... read more
Magherally - a civil parish and townland (491 acres) in County Down, Northern Ireland
Sally - a member of the Salvation Army (Protestant)
Women Of Celtic Song: Rowena Taheny, Laurel MacDonald & Eleanor McCain. Unsure as to which of the 3 artists sing this song... any help would be greatly appreciated.
Celtic Covers: Altan, Phil Coulter, Kate Crossan, Michael Londra, Seoirse O Dochartaigh, Deirdre Starr, Carissa Bovill, Mairin Fahy...
Album: Irish Roses (released 1st Jan, 2016)