Free and Green lyrics
David Kincaid & Carl Funk
Captain Taggart took the field
With his men as hard as steel
And we drove the bloody rebels to the sea
Before the guns were stilled
There were many hundreds killed
There's many an Irish girl sad tonight
When the smoke had cleared
It was just as we had feared
Captain Taggart lay wounded on the ground
With his head upon my knee
There he met eternity
I proudly closed his eyes and then I cried
Chorus:
And it's whiskey in the mornin', whiskey in the night
Another Irish soldier-lad, has fought his final fight
We'll toast him till we're drunk Boys, and dowse the candle light
Tell them Captain Taggart, is comin' home tonight
Well, we took his body home
And the drums and pipes did drone
And pulled a fine black casket through the streets
And then told his grievin' wife
That he loved her more than life
And gave to his young son his father's sword
Now the people, they all dream
Of an Ireland free and green
Where nowhere can be heard the battle-cry
The fighting's gone too long
And it just drags on and on
I'd like to know some peace before I die
Chorus:
And it's whiskey in the mornin', whiskey in the night
Another Irish soldier-lad, has fought his final fight
We'll toast him till we're drunk Boys, and dowse the candle light
Tell them Captain Taggart, is comin' home tonight
Chorus:
Well it's whiskey in the mornin', whiskey in the night
Another Irish soldier-lad, has fought his final fight
We'll toast him till we're drunk Boys, and dowse the candle light
Tell them Captain Taggart, is comin' home tonight
Is comin' home tonight...
Is comin' home tonight...
Dee dee dee...
Is comin' home tonight...
Song Details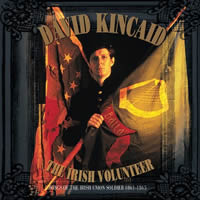 Music & Lyrics: David Kincaid & Carl Funk
Brief: The following is an excerpt from an article written by composer David Kincaid where he writes the following:
Following a visit to Ireland in 1980, Carl Funk, a young singer-songwriter from Seattle, felt compelled to write this song, expressing his vision of Ireland's tragedies and hopes, presenting it to me in basic form upon his return.

Originally, the song's protagonist was "Captain Farrell," the same name from the old Irish folk-song "Whiskey In The Jar," which Carl had learned on the trip. I thought the song was brilliant, but thought that we ought to find a different, previously unused name for the captain.

Days later, he called saying he had just seen the name "Taggart" on the side of a moving company's van, and wondered if the name might work. I looked into it - the name was indeed an Irish one, and worked beautifully. For my part I did minor work to the vocal melody, composed the instrumental sections, arranged the song structure and harmonies, and we soon had a finished song. Neither Carl nor I had any knowledge of the Irish Brigade of the American Civil War at this time.

Eight years later we would learn of some very strange coincidences surrounding this song: First, that the uncommon, almost randomly chosen name turned out to have been a real person, of the same name and rank: Captain Samuel Taggart of Co. I, 116th PVI, Irish Brigade.

Secondly, that he was as beloved by his men in real life as his fictional counterpart, and died on August 25th, 1864, at the battle of Ream's Station, VA, in the same manner as described in the song.

Lastly, that eight years later I would unknowingly join the reenactment company portraying Taggart's men, and finally be made aware of these bizarre coincidences.

Initially, I debated using the song on the album, as my purpose was to present a collection of only period songs of the Irish in the Civil War. I soon came to the conclusion that there seemed to be some unearthly forces at work with the song, compelling us to tell the world of Samuel Taggart's story, this being reason enough to justify putting it on the album.

The song has become an anthem of sorts for the men in my company, and I don't think they would have ever forgiven me if I hadn't.
Category: Irish Music - War & Hope
Album: The Irish Volunteer (Feb 24, 1998).