From Clare To Here lyrics
Ralph McTell
There's four who share this room and we work hard for the craic
And sleeping late on Sundays I never get to Mass
It's a long way from Clare to here
It's a long way from Clare to here
It's a long, long way, it grows further by the day
It's a long way from Clare to here
When Friday comes around Terry's only into fighting
Me ma would like a letter home but I'm too tired for writing
It's a long way from Clare to here
It's a long way from Clare to here
It's a long, long way, it grows further by the day
It's a long way from Clare to here
It almost breaks my heart when I think of Josephine
I told her I'd be coming home with my pockets full of green
It's a long way from Clare to here
It's a long way from Clare to here
It's a long, long way, it grows further by the day
It's a long way from Clare to here
The only time I feel alright is when I'm into drinking
It sort of eases the pain of it and levels out my thinking

Oh it's a long way from Clare to here
It's a long way from Clare to here
It's a long, long way, and it grows further by the day
It's a long way from Clare to here
I sometimes hear a fiddle play or maybe it's a notion
I dream I see white horses dance upon that other ocean
It's a long way from Clare to here
It's a long way from Clare to here
It's a long, long way, it gets further by the day
It's a long way from Clare to here
It's a long, long way from Clare to here.

Song Details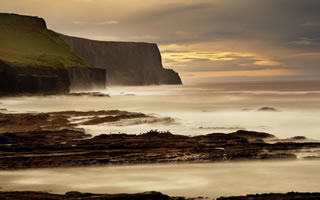 Music & Lyrics: Ralph McTell
Brief: A song about a young man who leaves his home, family and sweetheart in County Clare, to travel abroad to work. As each day passes he becomes more and more home-sick and finds that drinking helps to ease the longing and 'level out his thinking'.
Category: Folk Song / Irish emigration.
References:
Clare - mid-west of Ireland in the Province of Munster, north-west of the River Shannon
craic - fun and enjoyment
Please Note: Although this is not an Irish Folk Song, it has been included as it is very popular with Irish Folk and has been recorded by many Irish artists due to the content relating to Irish emigration.
Covers: The Fureys, Paddy Reilly, Noel Mcloughlin, The Jolly Beggarmen, Paul Byrom (Celtic Thunder), Na Fianna, Jim McCann, Phil Coulter, Brier, Deirdre Starr and many more.
Album: Best of: Streets of London - Ralph McTell