I Remember You Singing This Song lyrics
Finbar Furey
I remember you singing this song Ma
I remember how you blushed when you smiled
Love has a way of never letting go
Silly teardrops, they're filling my eyes
I remember when Father would sing this old song
He would tease you to sing along
He would sing out of key, just as happy as could be
I wonder if he's teasing you now
I remember the day my mother passed on
My father had gone just a while
I sat in the church and I listened to one
From a distance I heard this old song
I wonder if he's teasing you now Ma
I wonder if he's holding your hand
Love has a way of never letting go
Sure I know, you're together somehow
Dee dum da dee dum da dee...
Song Details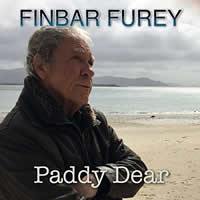 Writer: Finbar Furey - Irish folk musician and multi-instrumentalist
Album: Paddy Dear (pictured)
Released: January 20, 2017
Brief: The song begins with the singer remembering his mother singing to him when he was a child. He remembers how she would blush when she sang, and how her voice would fill him with love. He also remembers how his father would tease her to sing along, even though he was out of key.
The singer then remembers the day his mother passed away. He was sitting in the church, listening to the priest's sermon, when he started to think about his mother singing. He remembered how she would always sing this one particular song, and how it would make him feel happy.