I'll Walk Beside You lyrics
Cherish The Ladies ft. Luka Bloom
I'll walk beside you through the world today
While dreams and songs and flowers bless your way
I'll look into your eyes and hold your hand
I'll walk beside you through the golden land
I'll walk beside you through the world tonight
Beneath the starry skies ablaze with light
Within your soul love's tender words I'll hide
I'll walk beside you through the eventide
I'll walk beside you through the passing years
Through days of cloud and sunshine, joy and tears
And when the great call comes, the sunset gleams
I'll walk beside you to the land of dreams
[Instrumental]
I'll walk beside you through the world today
While dreams and songs and flowers bless your way
I'll look into your eyes and hold your hand
I'll walk beside you to the golden land
Song Details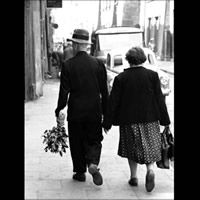 Music: Alan Murray (1890 - 1952)... ©1936
Lyrics: Edward Lockton
Brief: A love story... the power of love as two people walk through life together, 'through days of cloud and sunshine, joy and tears' - even death will not tear us apart... I'll walk beside you to the golden land.
References:
eventide - poetic word for evening.
I'll Walk Beside You - also the name of a 1943 British Drama Film. The song was played over the opening credits and repeated throughout the film.
Category: Hymn, love song, traditional pop, easy listening
Luka Bloom: Born Kevin Barry Moore in Newbridge, County Kildare, Ireland on May 23, 1955. He is an Irish folk-rock singer-songwriter who has been performing since 1969, and is also the younger brother of Christy Moore - one of Ireland's greatest Irish Folk Singers... read more
Cherish the Ladies: Originating from New York City, Cherish the Ladies are an all-female super group specializing in Celtic Music with a mixture of vocal and instrumental tracks. The band leader Joanie Madden plays flute and tin whistle while other band members play a wide variety of instruments. Many past members have gone on to achieve international fame in their own right... Eileen Ivers, Winifred Horan of Solas, Cathie Ryan, Heidi Talbot, Liz Knowles, Aoife Clancy, and Deirdre Connolly... read more
Covers: The Cliff Adams Singers, Shannon Singers, John McCormack, Opera Babes, Dennis O'Neill, Nicol Campbell, Harry Secombe, The Morriston Orpheus Choir, Trebor Edwards, Vera Lynn...
Album: The Girls Won't Leave The Boys Alone (Feb 6, 2001).