Irish Christmas lyrics
Damian McGinty
Cobbled streets, good friends we'll meet
Winters drawing in, days are getting cold back home
Fields of green like you've never seen
Turning white with snow painted bolly leaves calling me home
Where the lights are shining bright in Dublin town
You will see the glowing love that's all around
People be dancing and singing
All the bells they'll be ringing
Songs of joy from the land that I belong
This Irish Christmas
Evening tea with the family
Old traditions hold, hold us together young and old
By midnight mass all the gifts are wrapped
On Christmas Eve we'll be singing Oh Holy Night
Where the lights are shining bright in Dublin town
You will see the glowing love that's all around
People be dancing and singing
All the bells they'll be ringing
Songs of joy from the land that I belong
This Irish Christmas
Woah oh oh oh oh oh oh oh, woah oh oh
Woah oh oh oh oh oh oh oh, woah oh oh
Woah oh oh oh oh oh oh oh, woah oh oh
Woah oh oh oh oh oh oh oh, woah oh oh
Fields of green like you've never seen
Turning white with snow painted bolly leaves call me home
Where the lights are shining bright in Dublin town
You will see the glowing love that's all around
People be dancing and singing
All the bells they'll be ringing
Songs of joy from the land that I belong
This Irish Christmas
This Irish Christmas
Song Details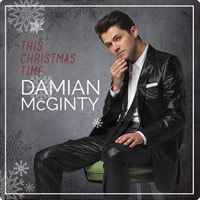 Writers: Damian McGinty and Tom Harrison
Damian McGinty from the Irish singing group Celtic Thunder the television show, "Glee".
Born: Damian Joseph McGinty Jr. on the 9th September, 1992 in Derry, Northern Ireland
Profession: Singer, actor
Album: This Christmas Time (pictured) released in 2016
Brief: A heartfelt holiday song that captures the spirit of Christmas in Ireland, namely Dublin. The song's lyrics rekindle images of traditional Irish Christmas celebrations, with references to holiday traditions, gatherings with family and friends, and the warmth of Irish hospitality.