The Kerry Recruit lyrics
The Corrie Folk Trio
At the age of nineteen, I was pickin' the land
With me brogues on me feet and me spade in me hand.
Well says I to myself, "What a pity to see
Such a fine Kerry lad diggin' turf in Tralee."
Chorus:
With your Kerry-I-ah, Fal-da Da-lal-da,
Kerry-I-ah, Fal-dal Da-lal-day.
So I buttered me brogues and shook hands with me spade
Dashed off to the fair like a gallant young blade.
The sergeant comes up, says "Will you enlist?"
"Sure, sergeant," says I, "Slip the bob in me fist".
Chorus:
There up comes the captain, and a man of great fame,
Straightway he asks me my country and name;
Well, I told you before I'll tell you again
Me father and mother were both Kerry men.
Chorus:
Now the first thing they gave me, they called it a gun,
And under the trigger I nestled me thumb.
The gun it spat fire, and vomited smoke
And it gave a great leap and me shoulder near broke.
Chorus:
Now the first place they took me was down by the sea,
On board a great warship, bound for the Crimea,
Three sticks in the middle, all hung with great sheets
Sure she walked on the water without any feet.
Chorus:
We reached Balaclava all safe and all sound,
And wet tired and weary we lay on the ground.
At morning at daybreak a bugle did call,
And they served us a breakfast of powder and ball.
Chorus:
Now we whipped them at Alma likewise Inkerman
But the Russians they foiled us along the Redan.
While scaling a rampart meself lost an eye
And a great Russian bullet ran away with me thigh.
Chorus:
Then a surgeon comes up and he soon stops the blood,
And they gave me an elegant leg made of wood;
And they gave me a pension of tenpence a day
Contented with shellacs I live on half-pay.
Chorus:
Oh, there is the story that me grandfather told
As he sat by the fire all withered and old;
"Remember," says he, "that the Irish fight well,
But the Russian artillery's hotter than hell."
Chorus:
Song Details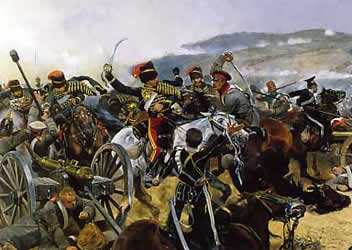 Music & Lyrics: Seamus O'Farrell (1915)
Brief: The song is related through the eyes of an Irish Soldier from Count Kerry during the Crimean War. It is an anti-recruiting song similar to The Recruiting Sergeant. Anyone heard singing these types of songs was laiable to six months imprisonment.
Category: Anti-recruiting / anti-war
References:
Brogues - breeches / trousers
(gallant young) blade - a dashing youth
cockade - a feather or ribbon worn on military headwear
Crimea - a peninsula in SE Ukraine between the Black Sea and the Sea of Azov
Alma - river in Crimea
Inkerman - eastern suburb of Sevastopol, South Crimea - scene of a battle during the Crimean War in which British and French forces defeated the Russians (1854)
Redan - an open field fortification with two faces at an angle of 60°-120° to each other, protruding in the direction of the enemy.
whaled - to beat or thrash soundly
Shellacs - A thin varnish used to finish wood (wooden leg)
Covers: The Dubliners (featured), Brendan Moriarty, The Makem Brothers, John Wright, The Corries (featured), Cormorant's Fancy, Richard Dyer-Bennet, The Celtic Camerata, Skip Henderson...
Album: Wild Rover - The Best of the Dubliners (Feb 18, 1998)
The Kerry Recruit lyrics by The Dubliners
One morning in March I was digging the land,
With me brogues on me feet and me spade in me hand
And says I to myself, such a pity to see,
Such a fine strappin' lad footin' turf round Tralee
With me toor in men ya, with me toor in men ya
With me toor in men, yoor in men, yoor in men ya
So I buttered me brogues, shook hands with me spade,
Then went off to the fair like a dashing young blade
When up comes a sergeant he asks me to list,
Then a Sergeant Agra, stick a bob in me fist
Chorus:
Well the first thing they gave me it was a red coat,
With a wide strap of leather for to tie round me throat
They gave me a queer thing, I asked what was that,
And they told me it was a cockade for me hat
Chorus:
Well the next thing they gave me they called it a gun,
With powder and shot and a place for me thumb
Well first she spat fire and then she spat smoke,
She gave a great leap and me shoulder near broke
Chorus:
Well the first place they sent me was down by the quay,
On board of a warship bound for the Crimea
Three sticks in the middle all rolled round with sheets,
Faith, she walked on the water without any feet
Chorus:
When at Balaclava we landed quite soon,
Both cold, wet and hungry we lay on the ground
Next morning for action the bugle did call,
And we had a hot breakfast of powder and ball
Chorus:
Well we fought at the Alma, likewise Inkermann,
And the Russians they whaled us at the Redan
In scalin' the walls there meself lost an eye,
And a big Russian bullet ran off with me thigh
Chorus:
Was there we lay bleeding stretched on the cold ground,
Both heads, legs and arms were all scattered around
I thought of me mam and me clavens were nigh,
Sure they'd bury me decent and raise a loud cry
Chorus:
Well a doctor was called and he soon staunched me blood,
And he gave me a fine elegant leg made of wood
They gave me a medal and ten pence a day,
Contented with Sheila I live on half pay
Chorus: