The Night Ferry lyrics
The Fureys & Davey Arthur
I came home across the sea to my homeland once again
And it was nice to see the land where I was born in
And the air it felt so fresh, and the wind held back my tears
As I slowly walked down the gangway
Oh the night ferry has taken me home again
Yes the night ferry has taken me home again
As I walk through the city again, trying to remember everything
There were people there laughing with their friends
And the lights they were shining, they were shining down on me
They were making my heart feel free back home again
Then I walked through the park where my father once held me
Where I learned to love and hate with all my friends
Where I kissed my first girl and my friends they laughed at me
And the gate there where we met constantly
Oh the night ferry she's taken me home again
Yes the night ferry she's taken me home again
I left home when I was sixteen, my people they didn't agree
But it didn't bother me, oh it hurt them
And I sailed across the see to seek a new country
To seek opportunity to better myself
I came home across the sea to my homeland once again
And it was nice to see the land where I was born in
And the air it felt so fresh, and the wind held back my tears
As I slowly walked down the gangway
Oh the night ferry has taken me home again
Yes the night ferry she's taken me home again
Yes the night ferry has taken me home again
Song Details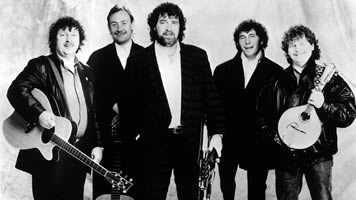 Author/Composer: Wizz Jones - first recorded on the 1993 CD album, Late Nights and Long Days - Track 3. The song is also featured on the album, A Life On The Road, 1964 - 2014.
Lyrics: Adapted by Finbar Furey
Brief: The original version of the song was written by Wizz Jones for his wife Sandy, and has quite different lyrics. Finbar Furey has taken the song and adapted the lyrics to such an extent that it's almost a new song sharing only the melody line, structure and chorus.
The song is about a man who has returned back to his homeland after leaving at the age of 16 to seek opportunity and better himself. As he walks around the city, fond childhood memories come flooding back to him... happy once again to be back in the land where he was born.
Category: Folk Song
Covers: Headland, The Celtic Folk, Ken O'Malley, The Fureys & Davey Arthur (featured).
Wizz Jones
Born: Raymond Ronald Jones on April 25, 1939 in Thornton Heath, Croydon, Surrey, England.
Active years: 1950's - present
Occupations: singer, songwriter, guitarist and banjoist
Music Styles: folk, bluegrass... learn more