Salonika lyrics
The Dubliners
Oh me husband's in Salonika, and I wonder if he's dead
And I wonder if he knows he has a kid with a foxy head
So right away, so right away,
So right away Salonika, right away me soldier boy
When the war is over, what will the slackers do
They'll be all around the soldiers for the loan of a bob or two
So right away, so right away,
So right away Salonika, right away me soldier boy
And when the war is over, what will the soldiers do
They'll be walking around with a leg and a half
And the slackers they'll have two
So right away, so right away,
So right away Salonika, right away me soldier boy
And they taxed a pound of butter, and they taxed a half-penny bun,
And still with all their taxin' they can't beat the bloody Hun
So right away, so right away,
So right away Salonika, right away me soldier boy
They taxed the Coliseum and they taxed St. Mary's Hall
Why don't they tax the Bobbies with their backs against the wall
So right away, so right away,
So right away Salonika, right away me soldier boy
When the war is over, what will the slackers do
For every kid in America in Cork there will be two
So right away, so right away,
So right away Salonika, right away me soldier boy
They take's us out to Blarney, and they lay's us on the grass
They puts us in the family way and they leaves us on our arse
So right away, so right away,
So right away Salonika, right away me soldier boy
There's lino in the parlour and in the kitchen to
And a lovely glass back chiffonier, we've got from Dickie Drew
So right away, so right away,
So right away Salonika, right away me soldier boy
Oh Never marry a soldier, a sailor or a marine
But keep your eye on a Sinn Fein fan with his yellow, white and green
So right away, so right away,
So right away Salonika, right away me soldier boy
So right away Salonika, right away me soldier boy
Song Details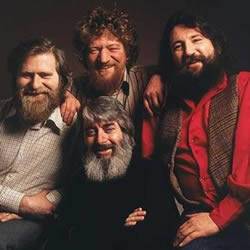 Writer: Unknown
Brief: The following is a synopsis of the song by Tim Delaney from a 'top comment' in a youtube entry:

During the World War I, the Munster Fusiliers (an Irish regiment within the British Army) fought a long and bloody battle against Turkish forces in Salonika, Greece. The wives of these fuisliers got "separation" money from the British Army in addition to the soldiers pay. Men in Cork who "avoided" the war for political or other reasons became known as "slackers". This song is a "slagging match" or a ball hopping contest between a "slackers" wife and a "sepera", the wife of a Munster Fusilier.
References:
Salonika (Thessaloniki) - second-largest city in Greece and the capital of Greek Macedonia. The Thessalonika port is of great commercial importance to Greece and was used as a supply chain for the soldiers fighting in Gallipoli during World War I.
Hun - the Turks
Bobbies - English policemen
Blarney (little field)- a town and townland in County Cork, Ireland.
a bob - a shilling
chiffonier - a narrow high chest of drawers or bureau, often with a mirror attached..
Sinn Fein - An Irish political and cultural society founded about 1905 to promote political and economic independence from England, unification of Ireland, and a renewal of Irish culture. It now constitutes the political branch of the Irish Republican Army.
Covers/Albums: The Dublin City Ramblers (Beneath a Dublin Sky), Orthodox Celts (The Celts Strike Again), Hamish Imlach (Sonny's Dream), The Noel Mcloughlin (World Travel - Celtic), The Government Rams (Homebrew 2), Pladdohg (Hair Of The Dohg), Fiddler'S Green (Drive Me Mad!)...
Category: Anti-recruiting song