The Stone Outside Dan Murphys Door lyrics
Foster & Allen
There's a sweet garden spot in our memory
It's the place we were born and reared
'Tis long years ago since we left it
But return there we will if we're spared
Our friends and companions of childhood
Would assemble each night near the store
Round Dan Murphy's shop, oh how often we sat
On the stone that stood outside his door
[Chorus]
Those days in our hearts we will cherish
Contented although we were poor
And the songs that were sung
In the days we were young
On the stone outside Dan Murphy's door
When our day's work was over we'd meet there
In the winter or spring the same
The boys and the girls all together
Would join in some innocent game
Dan Murphy would bring down his fiddle
While his daughters looked after the store
The music would ring and sweet songs we would sing
On the stone outside Dan Murphy's door
Those days in our hearts we will cherish
Contented although we were poor
And the songs that were sung
In the days we were young
On the stone outside Dan Murphy's door
Back again will our thoughts often wander
To the scenes of our childhood's home
The friends and companions we left there
It was poverty caused us to roam
Since then in this life we have prospered
But now still in our hearts we feel sure
For mem'ries will fly to the days now gone by
And the stone outside Dan Murphy's door
Those days in our hearts we will cherish
Contented although we were poor
And the songs that were sung
In the days we were young
On the stone outside Dan Murphy's door
Song Details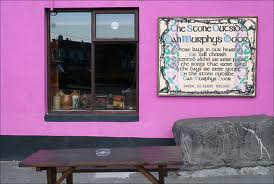 Writer: John Francis Patterson, commonly referred to as Johnny Patterson
Brief: The song reminisces of a meeting place where friends and companions would come together.
Dan Murphy would come out of his store and play the fiddle while his daughters looked after the store.
The children would play, and people would sing and tell stories of days gone by; their hardships, their sorrow and their joy. It would all happen at the Stone Outside Dan Murphy's Door... they were memories that would always be cherished.
Category: Irish Folk Song
Covers: The Dubliners, Pat Costello, Ruby Murray, Hugo Duncan.
Album: Remember You're Mine (Jan 01, 1988)
Johnny Patterson (1840 - 1889)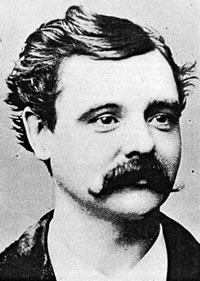 Johnny Patterson had many talents, including singing, songwriting and circus entertaining. At an early age he learned to play a number of instruments including the piccolo and the drums.
When he was 14, he enlisted in the army which was based in Limerick in the mid-west of Ireland. When the circus came to town, he managed to get a part-time job in the band. His earnings enabled him to leave the army, whereby he received an extended contract with the circus band being billed as The Irish Singing Clown.
He worked for a number of circuses around Ireland, and then travelled to England where he played the drums in a circus band from 1865 - 1889. He was a very talented singer and entertainer and spent several years performing around England, Scotland and Ireland where he began to write his own songs.
In 1876, he was given a contract to perform in America, leaving his wife and family behind. His career was truly in full swing, and he was considered to be one of the most famous entertainers of his time. It was during this time that he wrote The Stone Outside Dan Murphy's Door, along with a number of other songs.
He had found fame and fortune, and at the age of 45 decided to return to Ireland, settling in Belfast and re-uniting with his family. In 1886, his wife Selena died. He continued to perform and decided to set up his own circus with an Australian by the name of Joe Keeley. He re-married in 1888 to a girl named Bridget Murray.
As an entertainer, he loved to bring joy and happiness to the lives of people. It was during one of his performances that he expressed his desire to see Catholics and Protestants living in peace and harmony. A fight ensued whereby Patterson was kicked and later died from his injuries at Tralee on 31 May 1889 at the age of 49.