The Night Visiting Song lyrics
The Dubliners
I must away now, I can no longer tarry
This morning's tempest I have to cross
I must be guided without a stumble
Into the arms I love the most
And when he came to his true love's dwelling
He knelt down gently upon a stone
And through her window he's whispered lowly
Is my true love within at home?
Wake up, wake up love, it is thine own true lover
Wake up, wake up love, and let me in
For I am tired love and oh, so weary
And more than near drenched to the skin
She's raised her off her down soft pillow
She's raised her up and she's let him in
And they were locked in each others arms
Until that long night was past and gone
And when that long night was past and over
And when the small clouds began to grow
He's taken her hand and they've kissed and parted
Then he saddled and mounted and away did go
I must away now, I can no longer tarry
This morning's tempest I have to cross
I must be guided without a stumble
Into the arms I love the most
Song Details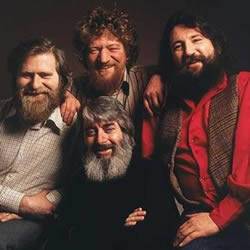 Writer: Unknown
Brief: The song is about a young man who comes visiting at his love's window, pleading with her to let him in as it was a wild and stormy night and he was tired and drenched to the skin. Upon entering, they embrace and spend the rest of the night locked in each others arms. At daybreak, it was time for him to leave - he took his lovers hand as they kissed and parted. He then saddled his horse and rode away.
References:
tarry - delay leaving - stay there longer than you mean to
tempest - violent windy storm
Noteworthy: In December 1983, "The Night Visiting Song" would become the final song to be performed by Luke Kelly with The Dubliners on Irish television (see video above).
Kelly's health had deteriorated in the 1970s and on June 30, 1980, he collapsed on stage during a concert and was subsequently diagnosed with a brain tumor. He continued performing but his health continued to deteriorate and he finally succumbed on Jan 30, 1984.
He was buried in Galvanise Cemetery, Dublin, where his gravestone bears the inscription: Luke Kelly – Dubliner.
Covers: Kate Rusby, Damien Dempsey, Noel Mcloughlin, Tommy Fleming, Roger McGuire, The Fenians, Braoinin, Aileen Downes, ÚLLA, The Kells, Aoife Scott, Ian Drew, Liz Madden & Fionán de Barra ft. Joanie Madden, Pádraig D'arcy, Larkin & Moran Brothers, Sussie Nielsen.
Category: Folk Song
Album by The Dubliners ft. Luke Kelly - The Performer (Nov 18, 2005 )