You Brought Me Up lyrics
Méav Ní Mhaolchatha
You brought me up and out of the water
You brought me up to forget
I had ever been, I could ever breathe
In the water under your heart
I darkened your door and your days, you said
You couldn't sleep the night
With the sound of the sea hard on my heels
Climbing the stairs to your bed
You promised me gloves from the skins of the fishes
The smile of a dolphin for a ring in my hands
But you left me with nothing but a mouthful of air
And promises wide as the ocean
You left me down for once and for all
You left me out in the open
Under mackerel skies, high and dry
Way out of the reach of our sea
Way out of reach and out of my depth
I wear your love like a skin
That hurts when anyone touches me
Where you left me down for once and for all
Out of the reach of our sea
You promised me gloves from the skins of the fishes
The smile of a dolphin for a ring in my hands
But you left me with nothing but a mouthful of air
And promises wide as the ocean
You brought me up and out of the water
You brought me up to forget
I had ever been, I could ever breathe
In the water under your heart
Song Details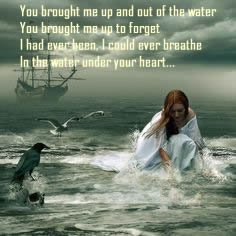 Composer: John Spillane (singer/songwriter)
Lyricist: Louis de Paor (poet)
Brief: The song is about a Selkie woman that is captured and then abandoned on land. A Selkie is a creature or spirit in Scottish and Irish folklore that has the form of a seal but can also assume human form. The following is an excerpt from Wikipedia in relation to Selkies:
Stories concerning selkies are generally romantic tragedies. Sometimes the human will not know that their lover is a selkie, and wakes to find them gone. In other stories the human will hide the selkie's skin, thus preventing it from returning to its seal form. A selkie can only make contact with one human for a short amount of time before they must return to the sea. They are not able to make contact with that human again for seven years, unless the human is to steal their selkie's skin and hide it or burn it... wikipedia.org/wiki/Selkie
Category: Irish Folk
Covers: Meav (featured), Karan Casey, Gussy McMelamud...
Album by Méav Ní Mhaolchatha: Silver Sea (Oct 01, 2003).