You're The One lyrics
Clannad
When the cold wind blows
And the rain keeps tumbling down
And there's no one there
When the morning light shines on
You're the one to lend a hand
You're the one who understands
You're the one to comfort me
The keeper of my heart
The moments we share
Will never ever fade away
All the treasure and gold
Wouldn't make me change anyway
You're the one to lend a hand
You're the one who understands
You're the one to comfort me
The keeper of my heart
This heart of mine
Might change as the seasons run by
Like a small stream
That turns and runs to the sea
Song Details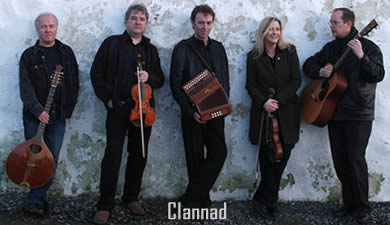 Writers: Ciarán Brennan, Moya Brennan
Album: 'You're the One' was Track 9 from the album Anam which was released in 1990.
Clannad: Family Irish band formed in 1970 hailing from Gweedore, County Donegal.
The following is a excerpt from Wikipedia:
Clannad are a family band composed of siblings Moya Brennan (Irish: Máire Ní Bhraonáin), Ciarán Brennan (Irish: Ciarán Ó Braonáin), Pól Brennan (Irish: Pól Ó Braonáin, who left in 1990 and rejoined in 2011) and their twin uncles Noel Duggan (Irish: Noel Ó Dúgáin) and Pádraig Duggan (Irish: Pádraig Ó Dúgáin). Their sister/niece Enya (Irish: Eithne Ní Bhraonáin) left the group in 1981 to pursue a solo career. Ten years after "taking a break", the five original members of Clannad reunited on stage at the Celtic Connections Festival in February 2007 in Glasgow, Scotland. Moya, Ciarán, Noel and Pádraig embarked on their first UK tour in over 10 years in March 2008, starting in Gateshead. In September 2013, Clannad released Nádúr, their first studio album in fifteen years... wikipedia.org/wiki/Clannad
Category: Folk
Album:The Essential Clannad (Aug 24, 2012).