The Battle of Benburb lyrics
Tommy Makem
O'er the hills of Benburb, rose the red beam of day
Gleaming bright from our foemen in battle array
But as brightly again, in the mid-summer glow
It shone back from the troops of our brave Owen Roe
Munroe had his thousands arrayed at his back
With their puritan mantles, steel morion and Jack
And with him fierce Blayney and Conway had come
To crush Owen Roe at the roll of a drum
And who with O'Neill on that morn drew the band?
Bold hearts as e'er beat by the Blackwater strand
Sir Phelim, brave chief, with his bosom of fire
O'Donnell, McSweeney and gallant Maguire
From Derry's wild woodlands from Maine's sounding tide
From Leitrim and Longford came chiefs to our side
From Breffni's green hills, with his sword in his hand
Came bold Myles the slasher, the pride of our land
We kept all that noontide, the foemen at play
Though we thought of their forays and burned for the fray
For our chief bid us wait, till the eve had begun
Then rush on the foe with our backs to the sun
Then hurrah for the red hand! And on to a man
Our columns poured down, like a storm on their van
There was panic before us and panic beside
As their horsemen fled back in a wild broken tide
And we took from the foes e'er that calm twilight fall
Their horses and baggage and banners and all
Then we sat by our camp-fires and drank in the glow
Good health to our leader, the brave Owen Roe
Long life to our leader, the brave Owen Roe
Song Details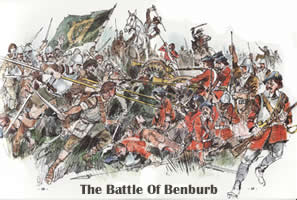 Music: Tommy Makem
Lyrics - 19th century poem: Robert Dwyer Joyce (1830-1883) - Irish poet, writer, and collector of traditional Irish music from County Limerick, Ireland.
Brief: The song is a commemoration of The Battle of Benburb, fought in 1646, where the Ulster Army of The Irish Confederates led by Owen Roe O'Neill defeated the Scottish Covenanter Army and Anglo-Irish army led by Robert Monro at Benburb in County Tyrone.
The Scottish and Anglo-Irish army were  upholding  the  Solemn  League  and  Covenant  of  1643 between  Scotland  and  England  to  establish  and  defend  Presbyterianism throughout Ireland and destroy Catholicism as the state religion.
Category: Irish Ballad
Album by Tommy Makem: Rolling Home (1989)