Come Back Paddy Reilly lyrics
The Barleycorn
The Garden of Eden has vanished they say
But I know the lie of it still
Just turn to the left at the Bridge of Finea
And stop when halfway to Cootehill.
'Tis there you will find it I know sure enough
When fortune has come to my call,
For the grass it is green around Ballyjamesduff
And the blue sky is over it all
And tones that are tender and tones that are gruff,
Are whispering over the sea,
Come back, Paddy Reilly to Ballyjamesduff,
Come home, Paddy Reilly, to me.
My mother once told me that when I was born
The day that I first saw the light,
I looked down the street on that very first morn
And gave a great crow of delight.
Now most newborn babies appear in a huff,
And start with a sorrowful squall
But I knew I was born in Ballyjamesduff
And that's why I smiled on them all.
The baby's a man now, he's toil-worn and tough,
Still, whispers come over the sea,
Come back, Paddy Reilly to Ballyjamesduff
Come home, Paddy Reilly, to me.
[Missing verses]
The night that we danced by the light of the moon,
Wid Phil to the fore wid his flute,
When Phil threw his lip over 'Come Again Soon,'
He'd dance the foot out o' yer boot!
The day that I took long Magee by the scruff
For slanderin' Rosie Kilrain,
Then, marchin' him straight out of Ballyjamesduff,
Assisted him into a drain.
Oh, sweet are the dreams, as the dudeen I puff,
Of whisperings over the sea,
Come back, Paddy Reilly to Ballyjamesduff
Come home, Paddy Reilly, to me.
I've loved the young women of every land,
That always came easy to me;
Just barrin' the belles of the Black-a-moor brand
And the chocolate shapes of Feegee.
But that sort of love is a moonshiny stuff,
And never will addle me brain,
For the bells will be ringin' in Ballyjamesduff
For me and me Rosie Kilrain!
And through all their glamour, their gas and their guff
A whisper comes over the sea,
Come back, Paddy Reilly to Ballyjamesduff
Come home, Paddy Reilly, to me.
Song Details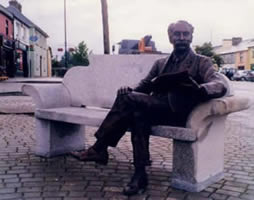 Writer: Percy French
Other Notable Works: Some of his most popular works include, A Nation Once Again, The Mountains of Mourne, and Phil the Fluther's Ball.
Brief: The song was written in 1912, and tells the story of a man named Paddy Reilly who has left his hometown of Ballyjamesduff and is urged to return by the people who miss him.
The song was well-received by the townspeople, except for one person, Paddy Reilly, who was a real jarvey who drove his jaunting car around the town. When he and his wife emigrated to Scotland, Percy wrote the song which was humourous with a hint of irony.
Paddy eventually returned to Ballyjamesduff, but he emphasized that the song had nothing to do with it. He and his wife are buried in a local cemetery, and a bronze replica of Percy is in the town square.
A legend in Ballyjamesduff a century after the song was first performed is that Paddy drove his horse and jaunting car to Carrick-on-Shannon, tied it outside the railway station, and then took the train to Dublin. The horse broke free and ran around Ireland searching for his master. Unfortunately, by the time Paddy returned home, his horse was dead!
References:
Bridge of Finea - famous bridge in a small village in County Westmeath on the border with County Cavan, Ireland.
Cootehill - a prominent market town in County Cavan, Ireland.
Balleyjamesduff - means 'Town of Black James' - a medium-sized town in County Cavan, Ireland.
wid - with
barrin' - short for barring - except for
belles - beautiful girls or women
o' yer - of your
dudeen - a short-stemmed clay pipe.
jarvey a term used to refer to a traditional Irish horse-drawn carriage driver.
Category: Irish Folk Song
The Barleycorn: Formed in 1971 originating from Belfast, Northern Ireland - play traditional Irish music as well as rebel songs... more
Covers: Paddy Reilly, Loise Morrissey, Daniel O'Donnell, Brendan O'Dowda, Barnbrack, Foster & Allen, Teresa Duffy, The Barleycorn (featured).