Foster & Allen Song Lyrics
Mick Foster and Tony Allen
Artists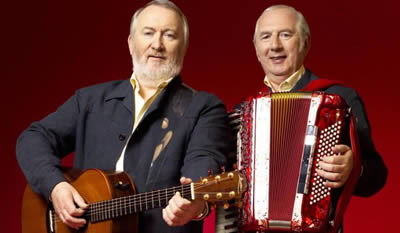 The Duo
Mick Foster was born in 1947 in County Kildaire and has been playing the accordion since his teens. Tony Allen, the youngest of nine children, was born in 1952 in Mount Temple. He began playing the accordion, but has been playing the guitar since 1968.
Mick Foster and Tony Allen worked together around Ireland back in the 1970's playing in country music bands. In 1975 they did a tour of the UK, working the Irish music venues. It was around this time that they decided to form a duo, playing easy-listening music and using traditional Irish instruments.
As a duo, they played around London for a while, and with their popularity gaining, Foster & Allen were formed. They played venues throughout Ireland and the UK with ever-increasing popularity, releasing their own music with continued success. Their most popular tunes include A Bunch of Thyme which became their first #1 single on the Irish charts, and 'Maggie' which reached #27 in the UK Singles Chart.
They have had a string of hit singles and albums over the years. As well as the UK, they have toured such places as the US, Canada, South Africa, Australia and New Zealand with enormous success. They have appeared on many TV shows and even had their own TV show in Ireland.
So far, they have released 27 albums, 13 videos, and numerous singles, with their video and album sales exceeding 19 million worldwide.
When they are not performing or touring, they enjoy varied interests. Allen's motivation of music has led him to set up a recording studio in Moate called Roseland Studios where many top artists in Ireland go to record their music. Foster has a small farm in Mullingar, where he enjoys spending time with his family, and looking after his horses.