The Galway Races lyrics
The Dubliners
To me whack fol the do fol the diddlely idle day
And as I rode out through Galway Town
To seek for recreation
On the seventeenth of August
Me mind being elevated
There were multitudes assembled
With their tickets at the station
And me eyes began to dazzle
And they're going to see the races
To me whack fol the do fol the diddlely idle day
There were passengers from Limerick
And passengers from Nenagh
Passengers from Dublin
And sportsmen from Tipperary
There were passengers from Kerry
And all quarters of the nation
And our member Mr Hardy
For to join the Galway Blazers
To me whack fol the do fol the diddlely idle day
There were multitudes from Aran
And members from New Quay shore
The boys of Connemara
And the Clare unmarried maidens
People from Cork City
Who were loyal, true and faithful
They brought home the Fenian prisoners
From dying in foreign nations
To me whack fol the do fol the diddlely idle day
And it's there you'll see confectioners
With sugarsticks and dainties
The lozenges and oranges
The lemonade and raisins
Gingerbread and spices
To accomodate the ladies
And a big crubeen for threepence
To be suckin' while they're able
To me whack fol the do fol the diddlely idle day
And it's there you'll see the gamblers
The thimbles and the garters
And the sporting Wheel of Fortune
With the four and twenty quarters
There was others without scruple
Pelting wattles at poor Maggy
And her daddy well contented
To be gawking at his daughter
To me whack fol the do fol the diddlely idle day
And it's there you'll see the pipers
And the fiddlers competing
The nimble-footed dancers
And they trippin' on the daisies
There was others shoutin' cigars and lights
And bills for all the races
With the colours of the jockey
And the price and horses' ages
To me whack fol the do fol the diddlely idle day
And it's there you'll see the jockeys
And they mounted on so stately
The pink, the blue, the orange and green
The emblem of our nation
When the bell was rung for starting
All the horses seemed impatient
I thought they never stood on ground
Their speed was so amazing
To me whack fol the do fol the diddlely idle day
There was half a million people there
Of all denominations
The Catholic, the Protestant
The Jew and Presbyterian
There was yet no animosity
No matter what persuasion
But fáilte and hospitality
Inducing Mr Paisley
To me whack fol the do fol the diddlely idle day and
To me whack fol the do fol the diddlely idle day
Song Details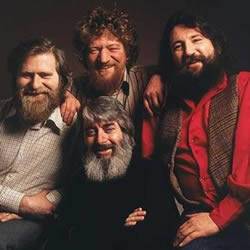 Writer: Unknown - traditional Irish Folk Song. The song was made famous by The Dubliners in 1967.
Brief: The song is about an annual horse racing festival that takes place over seven days at the Ballybrit Racecourse in Galway starting on the last Monday of July. The very first racing festival was a two-day event with the first race meeting on Tuesday, 17 August 1869 which is mentioned in the song and may give some indication as to when it was written. The author describes the events surrounding the festival beginning at the train station where people from all over Ireland and all walks of life and religious persuasions are happily gathering for the event. He then describes the festivities surrounding the event along with the colourful jockeys, the horses and the races.
References:
Limerick - city of southwest Ireland on the Shannon River.
Nenagh - the county town of North Tipperary, Ireland.
Dublin - capital city of Ireland.
Tipperary - town and a civil parish in South Tipperary, Ireland.
Kerry - a county of SW Republic of Ireland, in the West Munster province.
Aran - Three small islands of western Ireland at the entrance to Galway Bay noted for their Iron Age ruins and distinctive knitware.
New Quay - village in the northerly parts of County Clare.
Connemara - district in the west of Ireland.
Clare - a county in Ireland located in the Mid-West Region.
Cork - city in Ireland located in the South-West Region in the province of Munster.
Fenian - Historically, a  member  of  an  Irish  revolutionary  organization  founded  in  the  US  in  the  19th  century to  fight  for  an  independent  Ireland.
crubeen - Irish for a pig's trotter, especially one that has been cooked.
threepence - A coin worth three pennies, formerly used in Great Britain.
fáilte - Irish for Welcome!
Celtic Covers: The Dubliners (featured), The Clancy Brothers & Tommy Makem, Paddy Reilly, The Pogues, The Chieftans, Jim McCann, Patrick Clifford.
Category: Folk Song
Album:Original Dubliners (March 22, 1993).