Galway Shawl lyrics
Brier
Near Orenmore in the County Galway,
One pleasant evening in the month of May,
I spied a damsel, she was fair and handsome
And her beauty fairly took my breath away.
[Chorus]
She wore no jewels, no costly diamond
No paint or powder, oh no, none at all.
She wore a bonnet with ribbons on it
And round her shoulder was a Galway Shawl.
She kept on walking, and she kept on talking,
'Till her father's cottage, it came into view.
Said she: "Come in, sir, and meet my father,
And play to please him The Foggy Dew."
[Missing Verse]
She sat me down beside the fire
I could see her father, he was six feet tall.
And soon her mother had the kettle singing
All I could think of was the Galway shawl.
I played The Blackbird, The Stack of Barley,
Rodney's Glory and The Foggy Dew,
She sang each note like an Irish linnet.
Her tears came into her eyes of blue.
[Chorus]
'Twas early, early, all in the morning,
I took the road for old Donegal.
She sighed and kissed me, then she said "Goodbye Sir"
But my heart remains with that Galway shawl.
[Chorus]
Song Details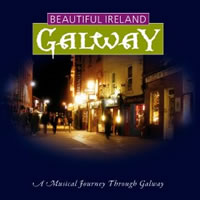 Music & Lyrics: Traditional
Collection: The first known version of the song was collected by Sam Henry from Bridget Kealey in Dungiven in 1936. Sam Henry (1870-1952) was an Irish Folk Song collector with the largest collection of folk songs from Northern Ireland between the wars. His works included Songs Of The People and Songs Of The People Part Two - both works were comprehensive and diverse including native Irish songs as well as songs from other origins including England, Scotland, and North America.
Brief: The song is about a courtship that took place in the west of Ireland during May in the village of Oranmore in County Galway. The narrator meets a beautiful girl on the street wearing a bonnet with ribbons and a Galway Shawl around her shoulders - her natural beauty took his breath away.
They started walking and talking and as they approached her house she invited him in to meet her father and play some tunes on his hornpipe to please him - The Foggy Dew, The Blackbird, The Stack of Barley, and Rodney's Glory. While he played, she sang along to the tunes with tears in her eyes of blue.
Early the next morning, he bids her farewell as he must leave for Donegal. As he leaves, she cries and kisses him - needless to say, his heart would always remain with that Galway Shawl.
Please Note: Brier's version is missing the 3rd verse, but we have include it anyway.
Category: Irish Folk
Covers: The Dubliners, Four to the Road, Ryan's Fancy, Patrick Street, The Poxy Boggards, Brier (featured).