Celtic Woman Song Lyrics
The best of Irish music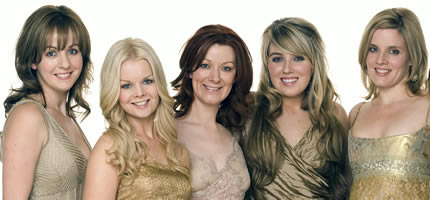 [an error occurred while processing this directive]
Celtic Woman
Celtic Woman is a musical ensemble that showcases the talents of female vocalists and musicians in the realm of Celtic music and beyond. Formed in 2004, Celtic Woman has gained worldwide popularity for their enchanting performances, combining traditional Celtic tunes, classical music, contemporary songs, and visually stunning stage productions.
The group features a rotating lineup of female vocalists, each bringing their own distinct style and vocal range to the ensemble. Their harmonious voices blend together beautifully, creating a rich and captivating sound. In addition to the vocalists, Celtic Woman includes talented instrumentalists who contribute to the ensemble's arrangements with instruments such as fiddles, harps, flutes, and bodhráns.
Celtic Woman's performances are known for their theatricality and elaborate stage sets. The shows often incorporate elements of storytelling, Celtic mythology, and cultural references, transporting the audience to a world of enchantment and beauty. The visual aspect of their performances is complemented by choreography, costume changes, and stunning lighting effects.
The repertoire of Celtic Woman covers a wide range of musical genres and styles. They perform traditional Irish and Celtic songs, as well as classical pieces, contemporary pop hits, and original compositions. The group's arrangements often feature intricate vocal harmonies, orchestral accompaniments, and solo performances that showcase the individual talents of the vocalists.
Celtic Woman has released numerous albums and DVDs, capturing the magic of their live performances. Their recordings have achieved significant chart success and have been met with critical acclaim. The ensemble has toured extensively, captivating audiences worldwide with their exceptional vocal performances and captivating stage presence.
With their mesmerizing performances and diverse repertoire, they have become renowned for their enchanting and evocative renditions of traditional Celtic tunes, classical music, and contemporary songs.