Have Yourself a Merry Little Christmas lyrics
Celtic Thunder
Have yourself a merry little Christmas
Let your heart be light
From now on our troubles will be out of sight
Have yourself a merry little Christmas
Make the yule-tide gay
From now on our troubles will be miles away
Here we are as in golden days
Happy golden days of yore
Faithful friends who are dear to us
Gather near to us once more
Through the years we all will be together
If the Fates allow
Hang a shining star upon the highest bough
So have yourself a merry little Christmas now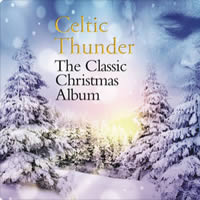 Song Details:
Writers: Ralph Blane & Hugh Martin
Date: 1943
First Release: 1944 - introduced by Judy Garland in the MGM musical 'Meet Me in St. Louis'.
Featured Artists:
Celtic Thunder: Irish singing group & stage show
Origin: Ireland
Original line-up: Ryan Kelly, Damian McGinty, Paul Byrom, George Donaldson, Keith Harkin
Music Styles: Folk, adult, contemporary, world music, soft rock, Broadway, classical, crossover
Active Years: 2007 - present
Brief: The song's lyrics convey a heartfelt and nostalgic message of hope, warmth, and togetherness during the holiday season. It begins with a wish for everyone to have a merry Christmas, encouraging listeners to enjoy the festive time and the company of loved ones. Despite the challenges and uncertainties that may be present, the song reassures listeners that brighter days are ahead and that they should look forward to better times in the future.
Covers: Judy Garland, Frank Sinatra, Bing Crosby, Ella Fitzgerald, Michael Bublé, James Taylor, Bing Crosby, She & Him, Lady Antebellum, Kelly Clarkson and many more.