Celtic Thunder Song Lyrics
The best of Irish music
Artists
Original line-up
L-R: Damian McGinty, Keith Harkin, Paul Byrom, George Donaldson, Ryan Kelly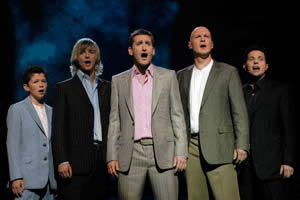 Celtic Thunder
Celtic Thunder is a musical ensemble and stage show that combines elements of Celtic music, traditional Irish folk songs, contemporary pop music, and theatrical performances. Formed in 2007, Celtic Thunder has gained international recognition for its captivating live performances and recorded albums.
The group consists of a rotating cast of male vocalists, each bringing their unique talents and styles to the ensemble. Celtic Thunder's repertoire encompasses a wide range of musical genres, including traditional Irish tunes, contemporary pop hits, Broadway show tunes, and original compositions.
Their stage shows are known for their dynamic and visually stunning presentations, featuring elaborate set designs, choreography, and costume changes. The performances often incorporate elements of storytelling, Celtic mythology, and Irish cultural references, creating a rich and immersive experience for audiences.
Celtic Thunder's music showcases powerful vocal harmonies, solo performances, and ensemble numbers, highlighting the individual talents of the vocalists while maintaining a cohesive group sound. They blend traditional Celtic instrumentation, such as the fiddle, tin whistle, and bodhrán, with modern instruments like guitars and keyboards, resulting in a unique fusion of traditional and contemporary sounds.
Over the years, Celtic Thunder has released numerous albums and live concert recordings, showcasing their diverse repertoire and engaging performances. Their music has resonated with audiences worldwide, attracting a dedicated fan base and earning them chart success and critical acclaim.
With their powerful vocals, captivating stage presence, and diverse repertoire, they have become synonymous with the vibrant and emotive spirit of Celtic music.