The Homes Of Donegal lyrics
Bridie Gallagher
I've just stepped in to see you all
I'll only stay awhile
And I want to see how you're getting on
I want to see you smile
And I'm happy to be back again
And greet you big and small
For there's no place else on earth just like
The homes of Donegal
I always see the happy faces
Smiling at the door
And the kettle swingin' on the crook
As I stepped up the floor
And sure soon the teapot's filling up
Me cup that's far from small
For your hearts are like a mountain bloom
The homes of Donegal
I long to sit alone with you
And while away the night
With tales of yore and fairy lore
Beside your fire so bright
And then to see prepared for me
A shake down by the wall
There's repose for weary wanderers in
The homes of Donegal
Now the time has come and I must go
I bid you all adieu
The open highway calls me forth
To do the things I do
And sure when I'm tramping on my way
I'll hear your voices call
And please God I'll soon return with you
The homes of Donegal
Song Details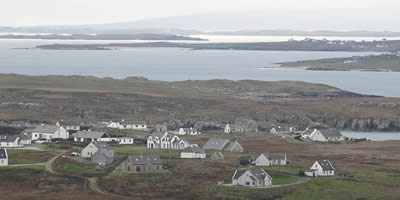 Lyrics: Seán McBride (circa mid 1950s) - native of Cruit island - a small inhabited island in the Rosses region of County Donegal, Ireland.
Melody: Traditional - used by a few other ballads including The Faughan Side.
Brief: The author relates the love of his hometown - the happy faces, friendly and welcoming people, a repose for weary travellers, and for those that have left - a place one longs to return to... as there is no place on earth like the homes of Donegal.
The following is a YouTube comment from Seán McBride's grandson:
My Grandfather wrote this song. To this day, my father and I sing this song. Donegal holds a special place in our hearts, even across the Atlantic. Thank you for showing tribute not only to this beautiful country but to the countryside that inspired the song. Donegal, St. Johnson, The Rosses, and Cruit Island will always hold a special place in our heart.
References:
crook - An implement or tool that is curved or bent.
lore - a body of traditions and knowledge on a subject or held by a particular group, typically passed from person to person by word of mouth.
yore - of long ago or former times
shake - A very brief amount of time; an instant.
Category: Ballad
Covers: Paul Brady, John McEvoy, Moya Brennan, Daniel O'Donnell, Keith Harkin, Celtic Thunder.
Album by Bridie Gallagher: Homes Of Donegal