If We Only Had Old Ireland Over Here lyrics
Foster & Allen
I was dreaming of old Ireland and Killarney's lakes and dells
I was dreaming of the shamrock and the dear old Shandon Bells
When my memories suggested in a vision bright and clear
All the strange things that would happen if we had old Ireland here
If the Blarney stone stood out in Sydney Harbour
And Dublin Town to Melbourne came to stay
If the Shannon River joined the Brisbane Waters
And Killarney's lakes flowed into Botany Bay
If the Shandon Bells rang out in old Fremantle
And County Cork in Adelaide did appear
Erin's sons would never roam all the boys would stay at home
If we only had old Ireland over here
There were lots of lovely lassies dancing on the village green
There are lots of lovely coleens the finest ever seen
Where the boys are all called Paddy and the girls called Molly Dear
Sure we'd wrap the green flag round them if we had old Ireland here
If the Blarney stone stood out in Sydney Harbour
And Dublin Town to Melbourne came to stay
If the Shannon River joined the Brisbane Waters
And Killarneys lakes flowed into Botany Bay
If the Shandon Bells rang out in old Fremantle
And County Cork in Adelaide did appear
Erin's sons would never roam all the boys would stay at home
If we only had old Ireland over here
Song & Artists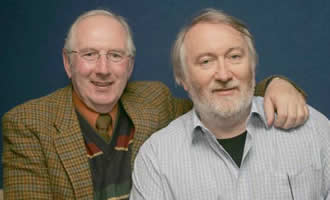 Author: Unknown
Brief: The song reflects a sentimental longing for Ireland and portrays a nostalgic image of the country. It evokes a sense of homesickness and yearning for the beauty, culture, and warmth of the Irish homeland.
The lyrics convey a sense of nostalgia, imagining how wonderful it would be if they could transport all the charms and delights of Ireland to their current location.
The song's popularity was driven in part by the significant Irish immigrant population in the United States during the 19th century, as it resonated with their experiences of leaving their homeland to seek a better life in a new country. It also played on the romanticised view of Ireland as a land of beauty and charm, contrasting with the often-harsh realities faced by immigrants in the United States.
You can take the Irish out of Ireland, but you will never take Ireland out of the Irish!
References:
blarney - clever, flattering, or coaxing talk
Blarney Stone - a block of bluestone built into the battlements of Blarney Castle, Blarney in 1446, approximately 8 kilometres (5 miles) from Cork, Ireland. According to legend, kissing the stone bestows the kisser with the gift of great persuasive language skills.
Erin - Ireland
green flag - Irish flag
Sydney, Melbourne, Brisbane, Adelaide - capital cities in Australia
Botany Bay - a bay on the South East coast of Australia, near Sydney.
Fremantle - a port in SW Western Australia, on the Indian Ocean.
Shandon - a district in Cork
Shannon River - longest river in Ireland.
Killarney - a town in County Kerry in the south west of Ireland.
County Cork - a county in Ireland located in the South-West Region and is also part of the province of Munster.
Category: Irish Folk Song
Covers: Hank Locklin, Frank McCaffrey, John Mc Nicholl, Ann Williamson, Barnbrack, Bridie Gallagher, Margo, Hugo Duncan, Barleycorn, The Shannon Singers, John Mcnicholl...
Album: Greatest Hits and Some That Will Be (Jan 1, 1999)