In the Bleak Midwinter lyrics
Celtic Thunder
In the bleak midwinter
Frosty wind made moan
Earth stood hard as iron
Water like a stone
Snow had fallen, snow on snow
Snow on snow
In the bleak midwinter
Long ago.
Heaven cannot hold Him
Nor earth sustain
And earth shall flee away
When He comes to reign
In the bleak midwinter,
A stable place sufficed
The Lord God Almighty
Jesus Christ.
Angels and archangels
May have gathered there
Cherubim and seraphim
Thronged the air
But His mother only,
In her maiden bliss
Worshipped the beloved
With a kiss.
What can I give Him?
Poor as I am
If I were a shepherd
I would bring a lamb
If I were a wise man,
I would do my part
Yet what can I give him?
Give my heart.
Song Details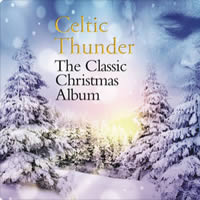 Lyrics: Christina Rossetti (1830-1894) - a renowned English poet, in 1872
Music: Gustav Holst (1874 - 1934) The poem was later set to music by Gustav in 1906. He was an English composer, arranger and teacher... read more
Brief: The song is inspired by the Nativity story and reflects on the humble and serene setting of Jesus' birth.
The lyrics paint a vivid picture of the harsh winter landscape, symbolizing the barrenness and simplicity of the stable where Christ was born. The carol's imagery creates a contrast between the cold, desolate world and the warmth and hope brought by the arrival of the Christ child.
Featured Artist:
Ryan Kelly from the Irish singing group - Celtic Thunder
Born: Ryan John Kelly on the 6th November, 1978 in a village called The Moy, County Tyrone, Northern Ireland.
Profession: Singer, musician, actor
Instruments: Vocals, guitar
Active Years: 2007 - present... learn more