The Leaving Of Liverpool lyrics
The High Kings
Fare thee well to Prince's Landing Stage
River Mersey, fare thee well
I am bound for California
It's a place that I know right well
So fare thee well, my own true love
And when I return united we will be
It's not the leaving of Liverpool that grieves me
But my darling when I think of thee
I have signed on a Yankee clipper ship
Davy Crockett is her name
And Burgess is the captain of her
And they say that she's a floating shame
So fare thee well, my own true love
And when I return united we will be
It's not the leaving of Liverpool that grieves me
But my darling when I think of thee
I have sailed with Burgess once before
He's a man that I know right well
If a man is a sailor, he can get along
And if not, then he is sure in Hell
So fare thee well, my own true love
And when I return united we will be
It's not the leaving of Liverpool that grieves me
But my darling when I think of thee
Oh the sun is on the harbour, love
And I wish I could remain
For I know it will be a long, long time
Before I see you again
So fare thee well, my own true love
And when I return united we will be
It's not the leaving of Liverpool that grieves me
But my darling when I think of thee
So fare thee well, my own true love
And when I return united we will be
It's not the leaving of Liverpool that grieves me
But my darling when I think of thee
Song Details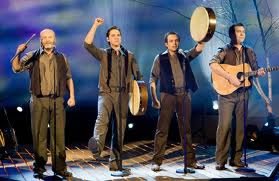 Composer & Lyricist: Traditional
Brief: The song's narrator laments his long sailing trip to California and the thought of leaving his loved ones - especially his 'own true love', and pledges to return to her one day.
References:
Princes Landing Stage - where the ships berthed on the River Mersey, Liverpool, England.
Clipper Ship - very fast sailing ship - yacht like vessels, with three masts and a square rig.
Category: Irish Folk Song
Covers: The Corries, The Dubliners, Ewan MacColl, Clancy Brothers & Tommy Makem, The Pogues, Tommy Fleming, Gaelic Storm, Young Dubliners, Billy Brown...
Album: Memory Lane (May 13, 2011)