My Green Valleys lyrics
Susan McCann
The seagulls are calling, and the wind's in the sail
And we're fast moving out to the sea
On a ship bound for St. Johns, three thousand miles away
A human cargo, my comrades and me
Farewell my green valleys, God keep you the same
If in only my mind, you will be
I am sailing dark waters, to far Americay
Never more, my green valleys to see
It hurts me to think of the things I left behind
Though the famine has blackened our land
And to look for the things that I might never find
It's a problem, that now is at hand
Farewell my green valleys, God keep you the same
If in only my mind, you will be
I'm sailing dark waters, to far Americay
Never more, my green valleys to see
There's a fever a raging and the winds have died away
And the journey can no longer be
And the plague is a shadow that lingers night and day
Far across our green valleys I'll be
Farewell my green valleys, God keep you the same
If in only my mind, you will be
I'm sailing dark waters, to far Americay
Never more, my green valleys to see
Never more, my green valleys to see
---
Original Lyrics by Glen Reid
Oh the seagulls are calling, the wind is in the sail
And she's fast moving out to the sea
On a ship bound for St. Johns, three thousand miles away
A human cargo, my comrades and me
It hurts me to think of, the things I left behind
Though the famine, has blackened the land
And to look now for something, that I may never find
Is a problem, that's now close at hand
Farethee well green valleys, God keep you the same
    If in only my mind, you'll be
    I am sailing dark waters, to far Americay
    And never more, my green valleys to see
Oh the fever's a ragin' and the winds have died away
And our journey, may no longer be
Though the plague is a shadow, that lingers night and day
Former thoughts of green valley, I see
Song Details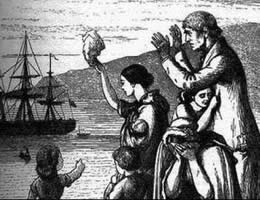 Author: Glen Reid from Burk's Falls, Ontario. The following is an excerpt from mudcat.org where Glen himself has something to say about the song...
Glen Reid here; When I wrote this song I was all of 20 years old and part of an Irish folk group called Brannigan's Boys in Toronto Ontario. We needed a filler song to complete the album, preferably an immigration song... My green Valleys was born. I think last call it's been done over 30 times and I'm never gonna get rich off it, Ha Ha. Sure am glad there are folks who like it though!
GLEN
Brief: The song is about the Great Famine of Ireland sometimes referred to as The Great Potato Famine. It was a time of mass starvation, disease and emigration in Ireland from 1845-1849. It was a desperate time in Irish history where around one million people died, and another million emigrated from Ireland to escape the ravages of disease and famine.
References:
Saint John's - The capital and largest city of Newfoundland and Labrador, Canada, on the eastern coast of Newfoundland on the Avalon Peninsula.
Americay - America
Category: Emigration
Covers: The Wolfe Tones, The Dublin City Ramblers, Dwain Casey, John Kerr, The Batterin' Ram, Athenrye.