The Wolfe Tones Song Lyrics
Irish Folk Songs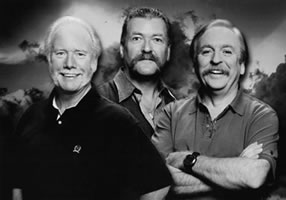 The Wolfe Tones
Formed in 1963, the Wolfe Tones are an Irish Rebel Band that integrate Traditional Irish Music in their songs.

The bands name comes from a double meaning:
Theobald Wolfe Tone was one of the leaders of the Irish Rebellion of 1798.
A wolf tone, is an undesirable sound that can effect instruments from the violin family.
Current members:
Noel Nagle: tin whistle, low whistle, uileann pipes, vocals (1963–present)
Brian Warfield: banjo, whistle, harp, piano, guitars, bodhran, vocals (1963–present)
Tommy Byrne: guitars, vocals (1964–present)
Former members:
Liam Courtney: guitars, vocals (1963–1964)
Derek Warfield: mandolin, vocals (1964–2001)