The Rambling Irishman lyrics
The Wolfe Tones
I am a rambling Irishman
In Ulster I was born in
And many the pleasant days I spent
Round the shores of sweet Lough Erne
But to be poor I could not endure
Like others of my station
To Americay I sailed away
And left this Irish nation
[Chorus]
Ry tan tin-a-na, tan tin-a-na
Ry tan tin-a-noor in the nandy
Ry tan tin-a-na, tan tin-a-na
Ry tan tin-a-noor in the nandy
The night before I went away
I spent it with my darling
Three o'clock in the afternoon
Till the break of day next morning
But when that we were going to part
We leaned in each others arms
To Americay we soon set sail
A journey without no charms
[Chorus]
---
[Missing Verse and Chorus]
The very first night I slept on board
I dreamt about my Nancy
I dreamt I held her in my arms
And well she pleased well my fancy
But when I woke out of my dream
I found my bed was empty
You may be sure, and very sure
That I lay discontented
[Chorus]
---
And when we reached the other side
We were both stout and healthy
We dropped our anchor in the bay
Going down for Philadelphi
So let every lass drink to her lad
In blue jacket and white trousers
And let every lad drink to his lass
And take them as life spouses.
[Chorus]
Song Details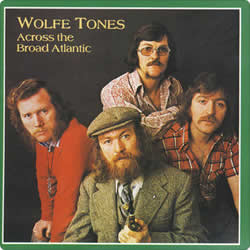 Author: Unknown
Brief: The song is about a poor Ulster-born Irishman who leaves his home town of Lough Erne and sets sail for America in the hope of a brighter future. He spends his last night in Ireland with his darling Nancy. When he arrives in Philadelphia, he urges every lad to drink to their lasses and 'take them as life spouses'.
Please Note: This version by The Wolfe Tones omits the 3rd verse but I have included it anyway. It relates to the first night on the ship where he dreams about his sweetheart in his arms, and his discontentment the next morning when he awakes to an empty bed.
References:
Lough Erne - the name of two connected lakes in County Fermanagh, Northern Ireland.
Lough - loch
Ulster - a province in the north of the island of Ireland.
Americay - America
Philadelphi - Philadelphia - the largest city in the Commonwealth of Pennsylvania.
Category: Folk, love, emigration
Covers: Delores Keane, De Dannan, Niamh Parsons, The Dubliners, Corrib Folk, Niall Hanna, Starlite Singers, John McCutcheon, Allister Thompson, Oysterband, Spailpin feat. Column MacOireachtaigh, Noel Mcloughlin, Two Old Friends, Na Leanai Sands, Nita Conley Korn & Eileen Korn Estes, The Voice Squad...