Rosin the Bow lyrics
Barleyjuice
I've travelled this world all over
And now to another I go
And I know that good quarters are waitin'
To welcome old Rosin the Bow
To welcome old Rosin the Bow me boys
To welcome old Rosin the Bow
I know that good quarters are waitin'
To welcome old Rosin the Bow
When I'm dead and laid out on the counter
A voice you will hear from below
Sayin' send down a hogshead of whiskey
To drink with old Rosin the Bow
To drink with old Rosin the Bow me boys
To drink with old old Rosin the Bow
Now send down a hogshead of whiskey
To drink with old Rosin the Bow
Then get a half dozen stout fellows
And let 'em all stagger and go
And dig a great hole in the meadow
And in it put Rosin the Bow
And in it put Rosin the Bow me boys
And in it put Rosin the Bow
Dig a great hole in the meadow
And in it put Rosin the Bow
[Instrumental]
I hear that old tyrant approachin'
That cruel remorseless old foe
And I lift up me glass in his honour
Take a drink with old Rosin the Bow
Take a drink with old Rosin the Bow me boys
A drink with old Rosin the Bow
I lift up me glass in his honour
Take a drink with old Rosin the Bow
To the memory of Rosin the Bow me boys
The memory of Rosin the Bow
Lift up me glass in his honour
To the memory of Rosin the Bow
[Instrumental]
To the memory of Rosin the Bow me lads
The memory of Rosin the Bow
Lift up me glass in his honour
To the memory of Rosin the Bow
Take a drink with old Rosin the Bow me boys
A drink with old Rosin the Bow
I lift up me glass in his honour
Take a drink with old Rosin the Bow.
Song Details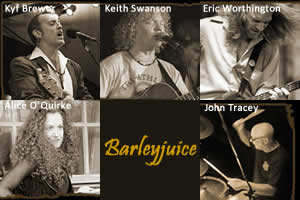 Author: Unknown - American Folk song popular in the 19th century with the possibility of British or Irish origins.
Earliest Date: Sheet music was published by Osbourne of Philadelphia in 1838.
Sources:
☘ Barrett, English Folk-Songs (1891) pp.92-93
☘ National Magazine, Heart Songs (1909) pp.210-211
☘ Williams, Folk Songs of the Upper Thames (1923) pp.93-94
Brief: The story of 'Old Rosin' who has travelled the world all over and is making preparations to leave this life. He hopes that future generations will emulate him, and asks to be remembered by 'lifting a glass in his honour'.
Category: Irish Drinking Song
Covers: The Dubliners, Pete Seeger, The Clancy Brothers & Tommy Makem, Matt McGinn, Bay Allen, Mike O'Laughlin, Donal Clancy, Riverclad, Barleyjuice (featured).
Album : One Shilling (Jan 01, 2001).
Barleyjuice
Band Origin Philadelphia, Pennsylvania, USA
Band Focus: To perform traditional Irish and Scottish songs in a pop/rock fashion
Active Years: 1998 - present
Music Style: Celtic Rock
Official Website: barleyjuice.com