The Ferryman lyrics
The Dublin City Ramblers
All the little boats are gone
From the breast of Anna Liffey
And the ferrymen are stranded on the quay
The Dublin docks are dying
And a way of life is gone
And Molly it was part of you and me
Where the strawberry beds
Sweep down to the Liffey
You'll kiss away the worries from my brow
I love you well today
And I'll love you more tomorrow
If you ever loved me Molly love me now
'Twas the only job I knew
It was hard but never lonely
The Liffey Ferry made a man of me
Now it's gone without a whisper
Forgotten even now
Sure it's over Molly over can't you see
Where the strawberry beds
Sweep down to the Liffey
You'll kiss away the worries from my brow
I love you well today
And I'll love you more tomorrow
If you ever loved me Molly love me now
Well now I spin my yarns
And spend my days in talking
I hear them whisper Charley's on the dole
But Molly we're still living
And Darling we're still young
And the river never ruled my heart or soul
Where the strawberry beds
Sweep down to the Liffey
You'll kiss away the worries from my brow
I love you well today
And I'll love you more tomorrow
If you ever loved me Molly love me now
Where the strawberry beds
Sweep down to the Liffey
You'll kiss away the worries from my brow
I love you well today
And I'll love you more tomorrow
If you ever loved me Molly love me now
If you ever loved me Molly love me now
Song Details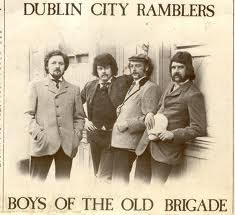 Writer: Pete St. John - Irish folk singer-songwriter from Dublin, Ireland.
Brief: The song gives an insight into the economic changes around Dublin with the docks dying and very little work for the ferry pilots.
It tells the story of a former ferryman expressing his thoughs to his wife Molly... unemployment and the implications it will have on their lives. However, he remains optimistic - they are still young and alive and life goes on regardless.
References:
The River Liffey - flows through the centre of Dublin
Anna Liffey - from the Irish words Abhainn na Life which translates to 'River Liffey'.
Category: Irish Folk Ballad
Covers: The Dubliners, The Irish Rovers, Gaelic Storm, Patsy Watchorn, Patrick Clifford, Derek Ryan.
Album - Dublin City Ramblers Live (Jan 01, 2007)