The Irish Rovers Song Lyrics
Irish fun folk
Artists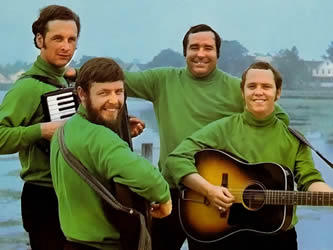 The Irish Rovers
The Irish Rovers are a Canadian-Irish folk band known for their energetic performances, catchy melodies, and charming Irish humor. The group was formed in 1963 and has gone through various lineup changes over the years. Their music is a blend of traditional Irish folk songs, original compositions, and contemporary folk influences.
Here's an overview of the band's history and some key members:
Founding Members:
The Irish Rovers were initially formed in Toronto, Canada, by George Millar and Jim Ferguson, both of whom were originally from Northern Ireland.
The group's name is inspired by the traditional song "The Irish Rover."
Early Years:
The band's early music often featured lively arrangements of traditional Irish songs and humorous anecdotes.
Their first hit single was "The Unicorn," which became one of their signature songs. It featured a mix of playful storytelling and catchy melodies.
Notable Albums and Hits:
The Irish Rovers' 1967 album "The Unicorn" solidified their popularity with the title track becoming a hit.
Other popular songs include "Wasn't That a Party," "Black Velvet Band," "Lily the Pink," and "Grandma Got Run Over by a Reindeer."
Over the years, they released numerous albums, each showcasing their distinct folk sound and entertaining performances.
Lineup Changes:
The band's lineup has changed over time, with various musicians joining and leaving. However, George Millar remained a constant presence as one of the original members.
Continued Performances:
The Irish Rovers have maintained a busy touring schedule, performing in various countries and delighting audiences with their spirited shows.
The Irish Rovers have left a lasting legacy in the world of folk music, especially with their joyful and humorous approach.
Their music has been embraced by fans of all ages, and they have played a significant role in popularizing Irish folk music beyond Ireland.
Television Appearances:
The band also had a television show called "The Irish Rovers" in the 1970s, which featured musical performances and comedic sketches.
Throughout their long and storied career, The Irish Rovers have remained true to their Irish roots while adding their own unique twists to traditional songs.