Theme From Harry's Game lyrics
Clannad
Imtheochaidh soir is siar
A dtáinig ariamh an ghealach is an ghrian
Fol lol the doh, fol the day
Fol the doh, fol the day
Imtheochaidh an ghealach's an ghrian
An duine óg is a cháil 'na dhiadh
Fol lol the doh, fol the day
Fol the doh, fol the day
Fol lol the doh, fol the day
Fol the doh, fol the da
Imtheochaidh a dtáinig ariamh
An duine óg is a cháil ne dhiadh
Fol lol the doh, fol the day
Fol the doh, fol the day
English Translation
I will go east and go west
From whence came the moon and the sun
Fol lol the doh, fol the day
Fol the doh, fol the day
The moon and the sun will go
And the young man with his reputation behind him
Fol lol the doh, fol the day
Fol the doh, fol the day
Fol lol the doh, fol the day
Fol the doh, fol the day
I will go wherever he came from
The young man with his reputation behind him
Fol lol the doh, fol the day
Fol the doh, fol the day
Song Details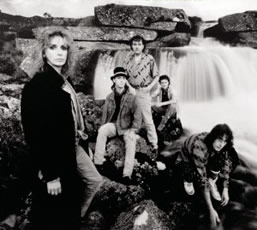 Writer: Pól Brennan - member of the band, Clannad.
Recorded: Windmill Studios, Dublin, Ireland
Released: October, 1982
Album: Magical Ring
Brief: The song was initially written for the Yorkshire Television production of Harry's Game, depicting the troubles in Northern Ireland.
Category: Celtic, New Age
Celtic Covers: Celtic Woman, Deirdre Shannon, The Derry Brigade Players, Ryan & Rachel O'Donnell.
Album: The Essential Clannad (Aug 24, 2012)