The Zoological Gardens lyrics
The Dubliners
Oh thunder and lightning is no lark
When Dublin city is in the dark
So if you've any money go up to the park
And view the zoological gardens
We went up there to see the zoo
We saw the lion and the kangaroo
There was he-males and she-males of every hue
Up in the zoological gardens
We went out there by Castleknock
Says she to me "Sure we'll court on the lock"
Then I knew she was one of the rare old stock
From outside the zoological gardens
Oh, thunder and lightning is no lark
When Dublin city is in the dark
So if you've any money go up to the park
And view the zoological gardens
We went out there on our honeymoon
Says she to me "If you don't come soon
I'll have to get in with the hairy baboons"
Up in the zoological garden
Says she to me "It's seven o'clock
And it's time for me to be changin' me frock
For I love to see that old cockatoo"
Up in the zoological garden
Says she to me "Me lovely Jack
Sure I'd love a ride on the elephant's back
If you don't get out that I'll give you such a smack
Up in the zoological garden
Well, thunder and lightning is no lark
When Dublin city is in the dark
So if you've any money go up to the park
And view the zoological gardens
Song Details ☘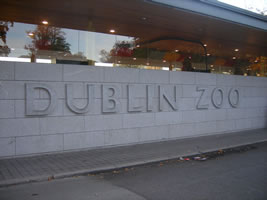 Writers: Traditional
Recorded by the Dubliners: 1960's
Brief: A humorous look at life around the local Dublin Zoological Gardens
The Dublin Zoo was opened on Sept 1st, 1831.
Situated in Phoenix Park, Dublin, the zoo is the largest in Ireland covering 28 hectares (69 acres).
Category: Folk
Covers: The Black Family, Brendan Behan, Tom Donovan, Inchicore, The Wolfe Tones, The Dubliners (featured)...
Album by The Dubliners: 50 Years (Nov 16, 2012).