Adam At The Window lyrics
Jimmy MacCarthy
Adam's at the window
Staring at the apple trees on fire
Waiting for the windfall
That brings the smile of kings and their desires
Door blows in behind him,
A floral pattern, summer dress so gay
Burning in the sunlight,
Too late to wait,
For darkness won't delay
To steal her cherry lips away
So while the careless tongues of sunlight
Slowly trickle down
The curve of hips, her fingertips,
In kissing sips we drown
In kissing sips we drown
Adam will have his way
Adam's on the island,
Living in the land of love
Shadows lurk around him,
Drunk on the royal jelly of pure love
Full and ripe, the fruit hang,
For when the prince arrives he will want more
And more and more he will drink
From the canvas cup
The son of a swan
Will then loose his plumera
He will wear a new age suit
Haunt the joints in town
And play a silver magic flute
And call his lover down
And call his lover down
Adam will have his way
Adam's at the easel
Painting in the wrinkles and the grey
Waiting for November,
Easy with the darkness of the day
Smiles a tear of gladness,
And Adam's at the window once again
He's burning in the sunlight,
Too late to wait,
For darkness won't delay
To steal her cherry lips away
So while the careless tongues of sunlight
Slowly trickle down
The curve of hips, her fingertips,
In kissing sips we drown
In kissing sips we drown
Adam will have his way
Song Details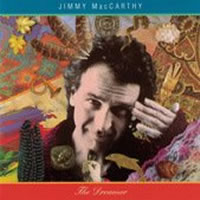 Words & Music: Jimmy MacCarthy - Irish singer songwriter from County Cork, Ireland.
Brief: A poignant ballad about a young man named Adam who is struggling with addiction and trying to find his way in the world. The lyrics describe Adam's journey and the challenges he faces, as well as his determination to overcome his struggles and find hope and redemption. The song is known for its emotional depth and powerful message of resilience and hope in the face of adversity.
The song was featured on the album, The Dreamer - released in 1994 (pictured). Other songs on the album include: Shadowy, Lorraine, The Highest Point, The Perfect Present, No Frontiers, The Carrier Of Scandal, Harlem, Wonder Child, The Morning Of The Dreamer, Sacred Places, and Adam (Reprise). His songs have been recorded by many famous Irish artists including Mary Black, Christy Moore, Maura O'Connell, Finbar Wright, The Corrs and Westlife.
Category: Folk Music
Covers: Mary Black, Seoirse.
Album: The Dreamer (pictured)