Banna Strand lyrics
The Wolfe Tones
'Twas on Good Friday morning,
All in the month of May,
A German Ship was signalling,
Beyond out in the Bay,
We had twenty thousand rifles
All ready for to land,
But no answering signal did come
From the lonely Banna Strand.
"No signal answers from the shore",
Sir Roger sadly said,
"No comrades here to meet me,
Alas, they must be dead,
But I must do my duty
And at once I mean to land",
So in a small boat pulled ashore
On the lonely Banna Strand.
Now the R.I.C. were hunting for
Sir Roger high and low,
They found him at McKenna's fort;
Said they: "You are our foe",
Said he: "I'm Roger Casement,
I came to my native land,
I mean to free my countrymen
On the lonely Banna Strand".
They took Sir Roger prisoner,
And sailed for London town,
And in the Tower they laid him,
A traitor to the Crown;
Said he "I am no traitor",
But his trial he had to stand,
For bringing German rifles
To the lonely Banna Strand.
'Twas in an English prison
That they led him to his death,
"I'm dying for my country"
He said with his last breath,
They buried him in British soil
Far from his native land,
And the wild waves sing his requiem
On the lonely Banna Strand.
They took Sir Roger home again
In the year of '65,
And with his comrades of '16
In peace and tranquil lies,
His last fond wish, it is fulfilled
For to lie in his native land,
And the waves will roll in peace again
On the lonely Banna Strand.
Song Details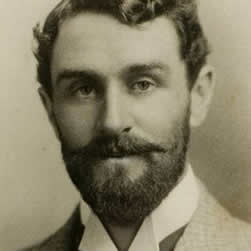 Author: Unknown
Brief: "Banna Strand" is an Irish rebel song about the failed transport of arms into Ireland for use in the Easter Rising of 1916. The song tells the story of Roger Casement, who was involved in the attempt to land arms for Irish Republicans from the German vessel the Aud. On Good Friday morning, 21 April 1916, Casement and another man, Robert Monteith, landed on Banna Strand in County Kerry. However, the British had been tipped off about the landing, and a British warship intercepted the Aud before it could reach the shore. The Aud was scuttled, and Casement and Monteith were captured.
Last Verse: Derek Warfield from the Wolfe Tones added the last verse in 1965 when the remains of Roger Casement were finally returned to Ireland.
References:
RIC: Royal Irish Constabulary
Sir Roger: Roger David Casement - Born Sept 1, 1864 in Sandycove, Dublin, Ireland. He began his professional life as a civil servant working for the British Foreign Office as a diplomat. Later in life he became a humanitarian activist, Irish Nationalist and poet. During World War 1, he attempted to send German Military aid for the Easter Rising of 1916 that fought to gain Irish Independence. He was arrested, convicted and executed for treason on Aug 3, 1916 in Pentonville Prison, London - aged 51.
Banna Strand: Situated in Tralee Bay, it is an Atlantic Ocean beach located approx. 12 km (7 mi) north west of Tralee... also known as Banna Beach.
Category: Irish Rebel Song
Album by The Wolfe Tones: 1916 Remembered. The Easter Rising. (2006)
Covers: The Wolfe Tones (featured), The Clancy Brothers, The Dubliners, The Fureys, Sean Keane, Seamus Begley, Tommy Makem, Paddy Reilly, Christy Moore.