Bold Fenian Men lyrics
The Clancy Brothers
It was down by the glenside, I met an old woman
A-picking young nettles, and she ne'er saw me coming
I listened a while to the song she was humming
Glory-O, Glory-O, to the bold Fenian men
It's fifty long years since I saw the moon beamin'
On strong manly forms, and eyes with hope gleaming
I see them again, in all my sad dreaming
Glory-O, Glory-O, to the bold Fenian men.
When I was a young girl, their marchin' and drilling'
Awoke in the glenside sounds awesome and thrillin'
They loved dear old Ireland, and to die they were willing
Glory-O, Glory-O, to the bold Fenian men.
Some died by the glenside, some died near a stranger
And wise men have told us their cause was a failure
They loved dear old Ireland, they never feared danger
Glory-O, Glory-O, to the bold Fenian men
I went on my way, God be praised that I met her
Be life long or short, sure I'll never forget her
We may have good men, but we'll never have better
Glory-O, Glory-O, to the bold Fenian men
Song Details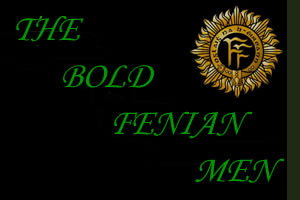 Writer: Peadar Kearney
Brief:The Bold Fenian Men is also called Down by the Glenside. The song was penned by Peadar Kearney, a republican who composed many other Irish rebel songs, most notably, The Soldier Song - the chorus of which is the Irish National Anthem.
The song was written about the 1916 Easter Rebellion. It was an attempt by the republicans to stop the British rule in Ireland. The rising was unsussessful due to greater British numbers and lead to the execution of the rebel leaders.
It will always be a favourite amongst the Republican movement as it stirs memories of the 1916 uprising and the history of the struggle against the British.
Category: Irish Rebel Song
Recording Artists with Celtic Origins: The song was first recorded in 1955 by Richard Dyer-Bennet and then again in the 1960's by The Clancy Brothers re-kindling the popularity of the song. Other artists include The Dubliners, Judy Collins, The Wolfe Tones, Luke Kelly, Omnia, Kellee Bradley, Muireann Nic Amhlaoibh and several others.
Album: Wrap The Green Flag: Favorites Of The Clancy Brothers with Tommy Makem (February 1, 1994).