The Croppy Boy lyrics
Liam Clancy
It was early, early all in the spring
The birds did whistle and sweetly sing
Changing their notes from tree to tree
And the song they sang was Old Ireland free.
It was early early all in the night,
The yeoman cavalry gave me a fright
The yeoman cavalry were my downfall
I was taken prisoner by Lord Cornwall.
As I was walking up Wexford Street
My own first cousin I chanced to meet;
My own first cousin did me betray
And for one bare guinea sold my life away.
As I was walking up Wexford Hill
Oh who could blame me to cry my fill?
I looked behind, and I looked before
But my tender mother I could see no more.
And as I was mounted on the scaffold high
My own dear father was standing by;
My aged father did me deny
And the name he gave me was the Croppy Boy.
It was in Dungannon this young man died
In Passage East his body lies.
So all good people who do pass by
Just shed a tear for the Croppy Boy.
Song Details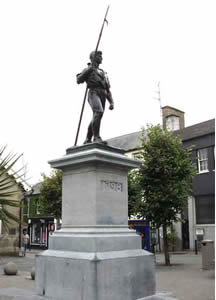 Composer & Lyricist: Traditional
Brief: The song is set during the Irish Rebellion of 1798 where a young Irish rebel is captured and executed. He was betrayed by his cousin for the price of one guinea.
References:
Croppy - short, cropped hair
Dungannon - Dungannon is a town in County Tyrone, Northern Ireland.
Passage East - a fishing village in County Waterford, Ireland, situated on the west bank of Waterford Harbour.
scaffold - raised wooden framework or platform used here for executions by hanging.
Covers: The Clancy Brothers and Tommy Makem, Ann Byrne, The Dubliners, The Irish Tenors, The Wolfe Tones, Paul Byrom...
Version 2: There is another version of the song with lyrics by Caroll Malone to the air of Cailín Óg a Stór (O Darling Young Girl) with a different story line - the result is the same (see below). It first appeared in the Irish Newspaper, The Nation in 1845. Here is a brief from Wikipedia:
...tells of a young man who stops in a church on his way to fight. He sees a cloaked figure in a confessional and kneels for the penitential rite. The figure is actually a British soldier who sought refuge from rebels by hiding in the confessional. After the youth completes his confession, the soldier reveals himself and proceeds to arrest the youth and take him to prison and execution.
References:
Bouchal - Irish word for boy
Nomine Dei - Latin for 'In the name of God'.
mea culpa - Latin for 'my fault'.
shrive - to confess one's sins
Recording Artists: Kevin McDermott, Willie Brady, Paddy McManus, John McCormack, Bridie Gallagher, Dublin Boys, Marika.
Category: Irish Ballad
Album: Favourites 1 & 2 (August 24, 2005).
The Croppy Boy Lyrics
by Caroll Malone
Kevin McDermott accompanied on piano by Ralph Richey
"Good men and true in this house who dwell,
To a stranger bouchal I pray you tell
Is the priest at home, or may he be seen?
I would speak a word with Father Green."
"The Priest's at home, boy, and may be seen;
'Tis easy speaking with Father Green.
But you must wait till I go and see
If the Holy Father alone may be."
The youth has entered an empty hall -
What a lonely sound has his light footfall!
And the gloomy chamber's chill and bare,
With a vested Priest in a lonely chair.
The youth has knelt to tell his sins;
"Nomine Dei," the youth begins;
At "mea culpa" he beats his breast,
And in broken murmurs he speaks the rest.
"At the siege of Ross did my father fall,
And at Gorey my loving brothers all;
I alone am left of my name and race,
I will go to Wexford and take their place.
"I cursed three times since last Easter day -
At mass–time once I went to play;
I passed the churchyard one day in haste,
And forgot to pray for my mother's rest.
"I bear no hate against living thing;
But I love my country above my king.
Now, Father! bless me and let me go
To die, if God has ordained it so."
The priest said nought, but a rustling noise
Made the youth look above in wild surprise;
The robes were off, and in scarlet there
Sat a yeoman captain with fiery glare.
With fiery glare and with fury hoarse,
Instead of blessing he breathed a curse -
"'Twas a good thought, boy, to come here and shrive,
For one short hour is your time to live.
"Upon yon river three tenders float,
The Priest's in one if he isn't shot -
We hold his house for our Lord the King,
And, amen say I, may all traitors swing!"
At Geneva Barrack that young man died,
And at Passage they have his body laid.
Good people who live in peace and joy,
Breathe a prayer and a tear for the Croppy Boy.