Danny Boy lyrics
Celtic Woman
Oh Danny boy, the pipes, the pipes are calling
From glen to glen, and down the mountain side
The summer's gone, and all the roses falling
It's you, it's you must go and I must bide.
But come ye back when summer's in the meadow
Or when the valley's hushed and white with snow
It's I'll be here in sunshine or in shadow
Oh Danny boy, oh Danny boy, I love you so.
But when ye come, and all the flow'rs are dying
If I am dead, as dead I well may be
Ye'll come and find the place where I am lying
And kneel and say an Ave there for me.
And I shall hear, though soft you tread above me
And all my grave will warmer sweeter be
For you will bend and tell me that you love me
And I shall sleep in peace until you come to me.
Song Details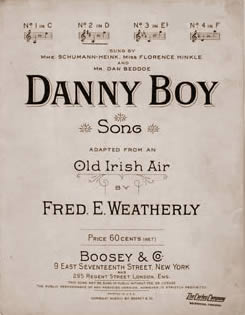 Lyrics: The lyrics for Danny Boy were written by Fred E. Weatherly in 1910, and published in 1913.
Music: Its musical origins are interesting, with the lyrics being arranged to suit the melody of 'Londonderry Air'... read more
Brief: The song has been interpreted in a few different ways - a message from a parent to a son going off to war; a message to a son leaving the country as an emigrant; a woman awaiting for her loved one to return - even in death she will wait for him. Needless to say, this beautiful Irish song is one of the most popular Irish ballads of all time.
Popular Recording Artists: The song has been recorded by many artists including Celtic Woman (featured), Celtic Thunder, Eva Cassidy, Andy Williams, Sinead O'Connor, Charlotte Church, The Pogues, Sarah Vaughan, Connie Francis, Judy Garland, Gracie Fields, Tom Jones, Roy Orbison, Jim Reeves, Elvis Presley, The Seekers, Harry Belafonte, and many others.
Album: Celtic Woman (March 1, 2005).