Did Your Mother Come From Ireland lyrics
Joni James
Did your mother come from Ireland?
'Cos there's something in you Irish,
Will you tell me where you get those irish eyes?
And before she left Killarney
Did your mother kiss the Blarney?
'Cos your little touch of brogue you can't disguise
Oh I wouldn't be romancin'
I can almost see you dancin'
While the Kerry pipers play,
Shure' and maybe we'll be sharin' 
In the shamrock you'll be wearin'
On the next St. Patrick's Day
Did your mother come from Ireland?
'Cos there's something in you Irish
And that bit of Irish steals my heart away
Did your mother come from Ireland?
'Cos there's something in you Irish
And that bit of Irish steals my heart away
Song Details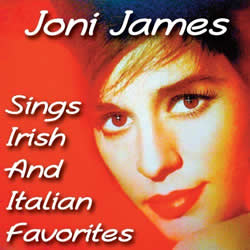 Music & Lyrics: Michael Carr (British music composer and lyricist) & Jimmy Kennedy (Northern Irish songwriter).
Date: 1936
Brief: There is definately something abut the Irish which distinguishes them from the rest - the Irish eyes, the lilt of Irish laughter, the love of song & dance, the accent... or maybe the alluring personality!
Category: Irish Folk Song
References:
Killarney: town in SW Republic of Ireland, in Co Kerry.
brogue: Irish accent
Kerry: a county of SW Republic of Ireland, in West Munster province.
shure: Irish variant of 'sure'
shamrock: Irish clover - national emblem of Ireland.
Joni James: Born Joan Carmella Babbo on September 22, 1930 in Chicago, Illinois, U.S. Born to an American-Italian family, she was one of six children supported by her widowed mother. She pursued a singing career as a traditional pop singer and released her fiirst album in 1952. Did Your Mother Come From Ireland? was featured on her 1959 album, Joni Sings Irish Favorites(pictured).
Covers: Joni James (featured), Bing Crosby, Gracie Fields, Connie Francis, Brian Dullaghan, Patrick Michael Flynn, Terry Scott, Jack Lee, Jimmy O'Crady, and Maureen O'Connor