Dirty Old Town lyrics
The Pogues
I met my love by the gasworks wall
Dreamed the dream by the old canal
I kissed my girl by the factory wall
Dirty old town, dirty old town
Clouds are drifting across the moon
Cats are prowling on their beat
Springs a girl from the streets at night
Dirty old town, dirty old town
Instrumental...
I heard a siren from the docks
Saw a train set the night on fire
I smelled the spring on the smoky wind
Dirty old town, dirty old town
I'm gonna make me a big sharp axe
Shining steel tempered in the fire
I'll chop you down like an old dead tree
Dirty old town, dirty old town
I met my love by the gasworks wall
Dreamed the dream by the old canal
I kissed my girl by the factory wall
Dirty old town, dirty old town
Dirty old town, dirty old town
Song Details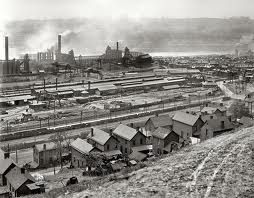 Words & Music: Ewan MacColl, 1949
Ewan MacColl: Playwright, folksinger, labour activist - born James Henry Miller on the 25th January, 1915 in Broughton, Salford, Lancashire, England. His parents were Scottish.
Brief: The song was originally written about a town called Salford, in Lancashire - the town where Ewan MacColl was born. The song was popularized by The Dubliners and the The Pogues with some lyrical changes.
Category: Folk
Covers: Jackie Washington, The Spinners, The Settlers, Donovan, Gary Shearston, Chad & Jeremy, Roger Whittaker, The Dubliners, Rod Stewart, The Clancy Brothers, Townes Van Zandt, The Specials, Emscherkurve 77, The Mountain Goats, Ted Leo and the Pharmacists, Donovan, Frank Black, Lorraine Leckie, Black Rebel Motorcycle Club, Nolwenn Leroy, Bettye LaVette...
Album: Rum Sodomy & The Lash (January 1, 1985).